A Partial Timeline of President Obama Claiming That Infrastructure Spending Will Magically Create Jobs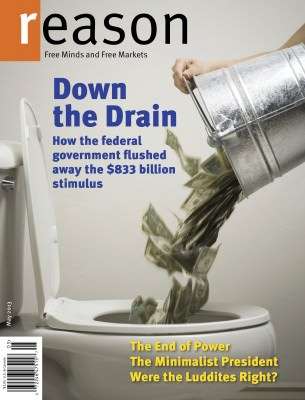 Today, President Barack Obama announced what the L.A. Times is calling a "new 'grand bargain' on taxes, infrastructure projects." Here's the gloss from Reuters:
Obama wants to cut the corporate tax rate of 35 percent to 28 percent and give manufacturers a preferred rate of 25 percent. He also wants a minimum tax on foreign earnings as a tool against corporate tax evasion and the use of tax havens.

In exchange for his support for a corporate tax reduction, Obama wants the money generated by a tax overhaul to be used to fund such projects as repairing roads and bridges, improving education at community colleges and promoting manufacturing, senior administration officials said.

"We're not lacking for ideas. We're just lacking for action. And for much of the past two years, Washington has taken its eye off the ball when it comes to the middle class," Obama said.
The president is inaccurate about his administration "lacking for action" when it comes to infrastructure spending in the name of middle class jobs. If anything, we've had too much of Obama-style action (and ideas), not enough Obama-promised results. Consider:
* The February 2009 American Recovery and Reinvestment Act included a whopping $105 billion in infrastructure spending–$48 billion for transportation, $27 billion on green energy research and project, $22 billion for more traditional energy, $18 billion for water/sewage/public parks, $15 billion for housing, $11 billion for IT, $7 billion for government buildings, and so on. Here is what Obama said about his huge jobs-through-infrastructure program at the time:
Now, what makes this recovery plan so important is not just that it will create or save 3.5 million jobs over the next two years, including 60,000-plus here in Colorado. It's that we're putting Americans to work doing the work that America needs done in critical areas that have been neglected for too long; work that will bring real and lasting change for generations to come.

Because we know we can't build our economic future on the transportation and information networks of the past, we are remaking the American landscape with the largest new investment in our nation's infrastructure since Eisenhower built an Interstate Highway System in the 1950s. Because of this investment, nearly 400,000 men and women will go to work rebuilding our crumbling roads and bridges, repairing our faulty dams and levees, bringing critical broadband connections to businesses and homes in nearly every community in America, upgrading mass transit, building high-speed rail lines that will improve travel and commerce throughout our nation.
Emphases mine.
Instead of delivering on the middle-class recovery and new interstate highway system-style upgrade it promised, this historic "investment" created four years of absurdly inaccurate administration predictions about how wonderful the economy was going to be any day now. Such abject failure, however, did not deter Obama's quest for the Holy Grail of infrastructure-led recovery.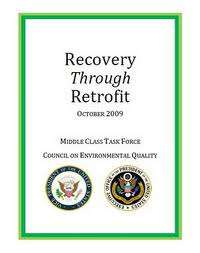 * In October 2009, the White House, led by Vice President Joe Biden, released a set of policy recommendations entitled (I swear I'm not making this up) "Recovery Through Retrofit." The report's conclusion: "These recommendations can pave the way for a self-sustaining retrofit market, a market that can reliably cut energy bills while also creating good green jobs and saving consumers money. We can build on the foundation of the Recovery Act to jumpstart a thriving, private market for energy efficient and healthy home retrofitting that will put thousands of people back to work while also reducing our impact on the environment."
Here's what the president said at the time:
The simple act of retrofitting these buildings to make them more energy-efficient—insulation new windows and doors, insulation, roofing, sealing leaks, modernizing heating and cooling equipment—is one of the fastest, easiest and cheapest things we can do to put Americans back to work while saving families money and reducing harmful emissions. […]

So what we want to do is create incentives that stimulate consumer spending, because folks buy materials from home improvement stores like this one, which then buys them from manufacturers. It spurs hiring because local contractors and construction workers do the installation. It saves consumers money—perhaps hundreds of dollars off their utility bills each year—and it reduces our energy consumption in the process.

In other words, most of this stuff is going to pay for itself.
How'd that all work out? Not so good.
Since then, Obama has repeatedly called for another $50 billion infrastructure jolt, and made infrastructure-stimulus a perennial part of his State of the Union Addresses.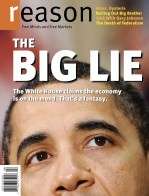 * 2010:
[W]e can put Americans to work today building the infrastructure of tomorrow. From the first railroads to the Interstate Highway System, our Nation has always been built to compete. There's no reason Europe or China should have the fastest trains or the new factories that manufacture clean energy products. Tomorrow I'll visit Tampa, Florida, where workers will soon break ground on a new high-speed railroad funded by the Recovery Act. There are projects like that all across this country that will create jobs and help move our Nation's goods, services, and information.
* 2011:
Our infrastructure used to be the best, but our lead has slipped. South Korean homes now have greater Internet access than we do. Countries in Europe and Russia invest more in their roads and railways than we do. China is building faster trains and newer airports. Meanwhile, when our own engineers graded our Nation's infrastructure, they gave us a "D."

We have to do better. America is the nation that built the transcontinental railroad, brought electricity to rural communities, constructed the Interstate Highway System. The jobs created by these projects didn't just come from laying down track or pavement. They came from businesses that opened near a town's new train station or the new off-ramp.

So over the last 2 years, we've begun rebuilding for the 21st century, a project that has meant thousands of good jobs for the hard-hit construction industry. And tonight I'm proposing that we redouble those efforts.

We'll put more Americans to work repairing crumbling roads and bridges.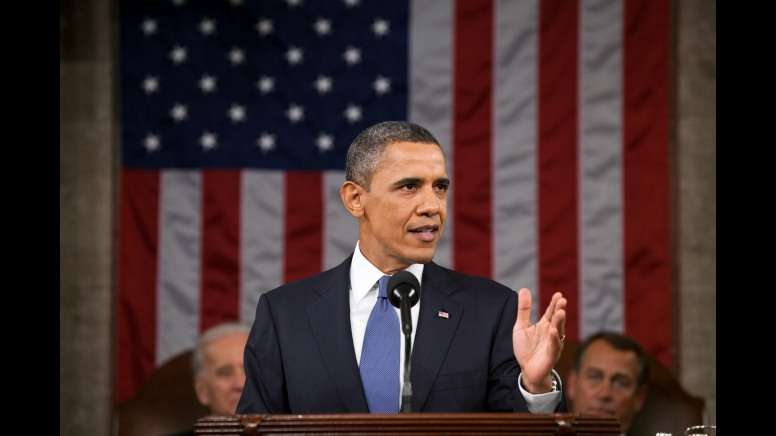 * 2012:
Building this new energy future should be just one part of a broader agenda to repair America's infrastructure. So much of America needs to be rebuilt. We've got crumbling roads and bridges; a power grid that wastes too much energy; an incomplete high-speed broadband network that prevents a small business owner in rural America from selling her products all over the world.

During the Great Depression, America built the Hoover Dam and the Golden Gate Bridge. After World War II, we connected our states with a system of highways. Democratic and Republican administrations invested in great projects that benefited everybody, from the workers who built them to the businesses that still use them today.

In the next few weeks, I will sign an executive order clearing away the red tape that slows down too many construction projects. But you need to fund these projects. Take the money we're no longer spending at war, use half of it to pay down our debt, and use the rest to do some nation-building right here at home.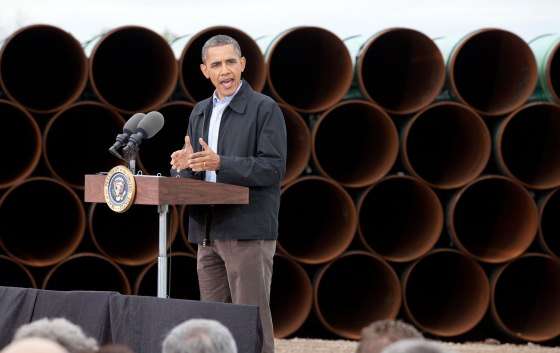 * 2013:
America's energy sector is just one part of an aging infrastructure badly in need of repair. Ask any CEO where they'd rather locate and hire—a country with deteriorating roads and bridges, or one with high-speed rail and Internet; high-tech schools, self-healing power grids. The CEO of Siemens America—a company that brought hundreds of new jobs to North Carolina—said that if we upgrade our infrastructure, they'll bring even more jobs. And that's the attitude of a lot of companies all around the world. And I know you want these job-creating projects in your district. I've seen all those ribbon-cuttings.

So tonight, I propose a "Fix-It-First" program to put people to work as soon as possible on our most urgent repairs, like the nearly 70,000 structurally deficient bridges across the country. And to make sure taxpayers don't shoulder the whole burden, I'm also proposing a Partnership to Rebuild America that attracts private capital to upgrade what our businesses need most: modern ports to move our goods, modern pipelines to withstand a storm, modern schools worthy of our children. Let's prove that there's no better place to do business than here in the United States of America, and let's start right away. We can get this done.
So what's the president saying today, then? More of exactly the same:
[L]et me briefly outline the areas in which we need to focus if we want to create good jobs that pay good wages in durable industries – areas that will fuel our future growth. […]

Number two: jobs rebuilding our infrastructure. Let's put more construction workers back on the job doing the work America needs done – vital projects our businesses need, like widening Route 27 here in Chattanooga, or the Jacksonville Port I visited last week; and projects vital to our national pride, like the one we're breaking ground on this week at the St. Louis Arch. Congress should pass my "Fix-It-First" plan to put people to work immediately on our most urgent repairs, like the 100,000 bridges that are old enough to qualify for Medicare. And we should partner with the private sector to upgrade what growing, 21st-century businesses like Amazon need most: modern air traffic control systems to keep planes running on time, modern power grids and pipelines to survive a storm, modern schools to prepare our kids for the jobs of tomorrow.
As I put it two years ago,
Why, it's almost as if his repeated promises to stimulate the economy by rebuilding infrastructure results in precisely neither of those things happening!
The bad news is that the president will likely keep saying and believing this rot until his last day in office. The good news is that it won't matter much, except as a reminder that modern-day Democratic economics are impervious to bad data.