US Suspends F-16 Shipment to Egypt, Joint Military Exercise Still Planned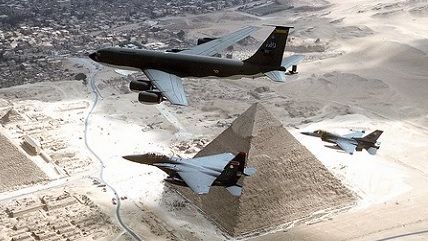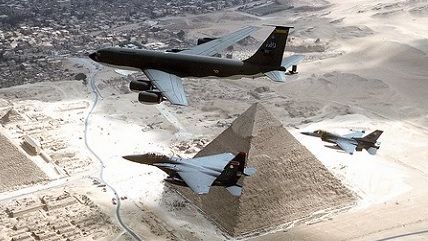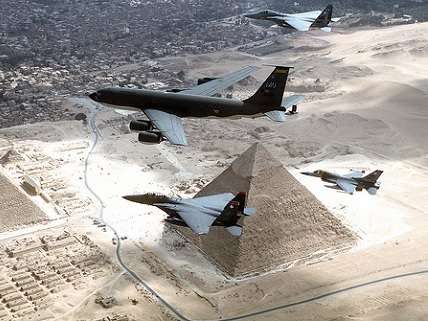 The Pentagon announced today it was suspending the shipment of four F-16s to Egypt, but a biennial joint military exercise, Bright Star, will continue as planned. The 2011 iteration was cancelled after strongman Hosni Mubarak was toppled. Planning for the current exercise began last year. While federal law requires military aid to be suspended, a Pentagon spokesperson didn't elaborate on a reason for the decision, according to the AP:
[Pentagon press secretary George] Little said there is no timetable for proceeding with the delivery of four F-16s under a previously arranged sale to Egypt, and he was not specific about the reasons for delaying it.

"Just given the overall situation in Egypt right now we thought it prudent to make this decision," he said, adding that it ultimately was Obama's decision.
The US has already sent eight F-16s to Egypt this year as part of a 20-jet sale, but not since the don't-call-it-a-coup in Egypt. President Obama ordered a review of US assistance to Egypt's government a week after Mohammed Morsi was overthrown, but the Pentagon stresses the decision on the F-16s doesn't affect broader military aid, saying it was "committed to the U.S.-Egypt defense relationship" and would focus on "hastening" Egypt's return to democratically-elected government. Washington's stance remains interventionist.
In Egypt, the public prosecutor ordered the arrest of the leader of the Muslim Brotherhood today on charges of "inciting violence," while Egypt's army chief called for nationwide protests, not, he says, to add to the unrest but to oppose "violence and terrorism." One person died and at least twenty eight were injured in an overnight bombing of a police headquarters in Mansoura, about 70 miles from the Sinai Peninsula, part of a longer campaign by Islamist militants there. The Muslim Brotherhood condemned the bombing, but Egypt's military leader claimed President Morsi, a Muslim Brother, was trying to give militants in the Sinai a free hand, and cited it as one of his reasons for overthrowing the government. The military has kept Morsi in detention since ousting him, hasn't charged him with any crimes and won't say where he is.