New York City Pays $300K After Cops Beat Elderly Couple and Kill Their Dog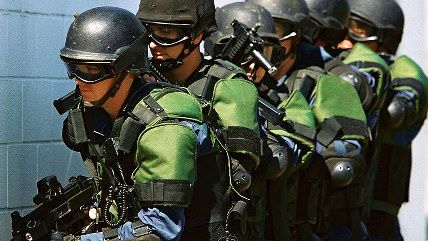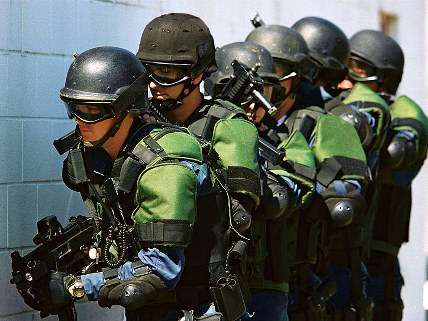 What's the appropriate police response when authorities suspect that an adult man is having a sexual relationship with a teenager? How about sending a SWAT team crashing into his grandparents' home, beating the crap out of his septuagenarian grandparents and (of course) killing their dog? That's what New York City police officers did to Elaine McCarthy and Egbert Thomas in 2008, and the city is now giving them $300,000 for their troubles.
Oh … Did I mention that Thomas was already partially disabled by a stroke before the officers laid into him?
From my old stomping grounds at the New York Daily News:
McCarthy went to investigate, and a shotgun-toting cop promptly wrenched her arm behind her back. She was then handcuffed and thrown to the floor. She has had two surgeries on her shoulder and knee to repair the damage.

Thomas hadn't heard the ruckus and was hobbling to the bathroom when he heard someone shout, "Hey, boy, where are you going?" court papers state.

Thomas was grabbed by his collar and flung to the floor. But an unidentified cop muttered "Oh, s–t!" when he realized the senior citizen was infirm and could not get up, according to Thomas' deposition.

He suffered a broken arm. …

In addition, the couple's pit bull, Trouble, was whacked by a cop with his heavy ballistic shield and died three days later.
This was all because "the officers had a warrant only to collect evidence against the couple's adult grandson, who had been arrested the previous day for having an illicit relationship with a teenage girlfriend."
Three weeks after the raid, the leader of the invading police officers, Lt. Michael Pigott, made headlines again when he ordered the tasering of a man perched on a building ledge. Unsurprisingly, Iman Morales fell to his death. During the subsequent scandal, lawsuits and threatened prosecutions, Pigott committed suicide.
But that was after Pigott and company crashed through the door of the home of McCarthy and Thomas, broke their bones and killed their dog in order to collect evidence in what sounds like a possible "Romeo and Juliet" case, though it's not clear how wide the age range was between the grandson and his girlfriend.
As McCarthy told the Daily News, "They could have just rang the bell, said they had a warrant and come in to take what they were looking for."