Sorry, the Zimmerman Case Still Has Nothing to Do With 'Stand Your Ground'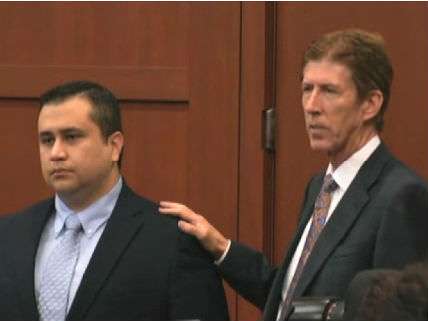 The story that George Zimmerman told about his fight with Trayvon Martin, the one that yesterday persuaded a jury to acquit him of second-degree murder and manslaughter, never had anything to do with the right to stand your ground when attacked in a public place. Knocked down and pinned to the ground by Martin, Zimmerman would not have had an opportunity to escape as Martin hit him and knocked his head against the concrete. The duty to retreat therefore was irrelevant. The initial decision not to arrest Zimmerman, former Sanford, Florida, Police Chief Bill Lee said last week (as paraphrased by CNN), "had nothing to do with Florida's controversial 'Stand Your Ground' law" because "from an investigative standpoint, it was purely a matter of self-defense." And as The New York Times explained last month, "Florida's Stand Your Ground law…has not been invoked in this case." The only context in which "stand your ground" was mentioned during the trial was as part of the prosecution's attempt to undermine Zimmerman's credibility by arguing that he lied when he told Fox News host Sean Hannity that he had not heard of the law until after the shooting. During his rebuttal on Friday, prosecutor John Guy declared, "This case is not about standing your ground."
So how did Benjamin Jealous, president of the National Association for the Advancement of Colored People, respond to Zimmerman's acquittal last night? By announcing that "we will continue to fight for the removal of Stand Your Ground laws in every state." And how did the Times, the same paper that last month noted Zimmerman's defense did not rely on the right to stand your ground, describe Florida's self-defense law after he was acquitted? This way:
The shooting brought attention to Florida's expansive self-defense laws. The laws allow someone with a reasonable fear of great bodily harm or death to use lethal force, even if retreating from danger is an option. In court, the gunman is given the benefit of the doubt.
While it's true that Florida has eliminated the duty to retreat for people attacked in public, that provision played no role in Zimmerman's defense or his acquittal. And contrary to what the Times seems to think, giving the defendant the benefit of the doubt is not unique to Florida. It is a basic principle of criminal justice in America.
NPR likewise keeps insisting that the Zimmerman case somehow casts doubt on the wisdom or fairness of "stand your ground" laws. In a story that summarized the events leading to Zimmerman's trial, correspondent Gene Demby said Florida's "stand-your-ground self-defense law…figured to be a major pillar of Zimmerman's defense." No, it didn't, given his description of the fight. And once the trial started, it was obvious that "stand your ground" had nothing to do with Zimmerman's defense. Yet Greg Allen, the NPR reporter covering the trial, said this last week: "Under Florida's Stand Your Ground law, Zimmerman need only convince the jury that he was acting in self-defense and was in fear of death or great bodily harm to win acquittal." Allen forgot to mention that the fear must be reasonable, and he implied that the jury had to be fully convinced by Zimmerman's story to acquit him, when in fact it only needed reasonable doubt regarding the prosecution's version of events, in which the shooting was not justified. Most important, Allen conflated "stand your ground" with the general principle, accepted even in states that impose a duty to retreat in public places, that a reasonable fear your life is in jeopardy justifies the use of lethal force.
You might think that, given all we now know about Zimmerman's actual defense, critics of "stand your ground" laws would have to find a different, more apposite case to illustrate their concerns. Instead they just barrel along, citing the same phony example again and again, without regard to the facts. It does not inspire confidence in their argument.
Addendum: A few commenters note that the jury instructions in Zimmerman's case included "stand your ground" language:
If George Zimmerman was not engaged in an unlawful activity and was attacked in anyplace where he had a right to be, he had no duty to retreat and had the right to stand his ground and meet force with force, including deadly force if he reasonably believed that it was necessary to do so to prevent death or great bodily harm to himself or another or to prevent the commission of a forcible felony.
That language is part of the standard jury instruction [3.6(f)] in cases where the defendant claims his use of deadly force was justified. But it is hard to see how it applies to the facts of this case, since Zimmerman claimed he was unable to retreat and therefore did not base his defense on the right to stand your ground. The fact that a legal provision was mentioned in the instructions does not necessarily mean it was relevant in reaching a verdict. For example, the instructions also mentioned accidental killings and attacks on dwellings, neither of which applies to the circumstances of the encounter between Zimmerman and Martin.
[Thanks to Robert Woolley for the NPR links.]