Illinois Still Flailing About Trying to Do Something About Pensions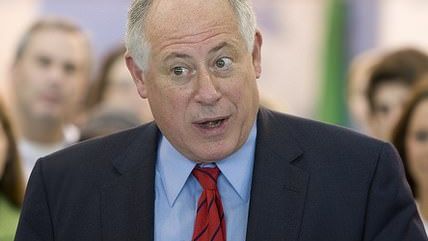 (ChrisEaves.com / Foter / CC BY)
Fresh off failing to force some gun control efforts onto legislation to finally legalize concealed carry in Ilinois, Gov. Pat Quinn is now trying to withhold state legislators' paychecks until they deal with the state's public pension crisis, which is one of the worst in the country.
The Chicago Tribune reports:
Gov. Pat Quinn said today he is suspending state lawmakers' pay until they come up with a comprehensive solution to the state's public pension mess, a dramatic gesture that is likely to increase tension with the General Assembly and the fellow Democrats who lead it.

"It's important our budget reflect what the people want," Quinn said at a news conference in Chicago, announcing he would use his line-item veto power to alter the state budget.
His attempts to influence the matter, frankly, aren't going so well:
Lawmakers of both parties Tuesday also rejected yet again his deadline for solving the state's public pension nightmare amid rising criticism that Quinn would rather pressure them through public pronouncements than get involved in the nitty-gritty of legislative negotiations.
The base salaries for Illinois lawmakers are a touch shy of $70,000 a year. The state comptroller is checking to seek if Quinn actually has the legal authority to do what he's proposing, so he may end up failing yet again. Reporter Rick Pearson does not shy away from describing Quinn's inelegant management of this crisis:
Quinn has made as many as a dozen pivots on the pension reform issue in a little over a year and twice called lawmakers into special sessions in the last 14 months, but a solution has remained elusive while the public pension debt reached $100 billion.

After lawmakers failed in May to resolve differences in competing bills offered by Madigan and Cullerton, fellow Chicago Democrats, Quinn got them to form a conference committee aimed at reconciling the approaches.

But lawmakers have scoffed at his self-imposed deadlines for brokering a solution, which have come and gone. They have criticized him for not directly negotiating a compromise.
Follow this story and more at Reason 24/7.
Spice up your blog or Website with Reason 24/7 news and Reason articles. You can get the widgets here. If you have a story that would be of interest to Reason's readers please let us know by emailing the 24/7 crew at 24_7@reason.com, or tweet us stories at @reason247.