Military To Cut 12 Combat Brigades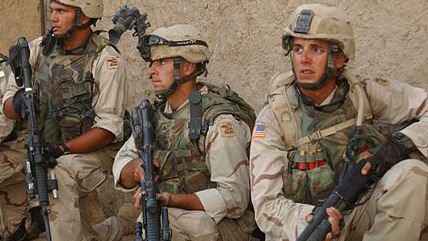 (Department of Defense/wikimedia)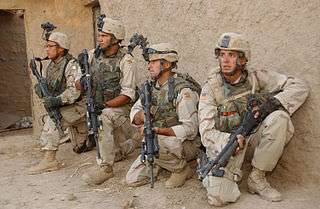 The U.S. Army will cut the number of combat brigades from 45 to 33 by 2017. The restructuring comes as a result of the 2011 Budget Control Act, which reduces defense spending by $487 billion over the next 10 years.
From the Associated Press:
Army leaders said Tuesday that they will slash the number of active duty combat brigades from 45 to 33, as the service moves forward with a longtime plan to cut the size of the service by 80,000. And they warned that more cuts — of as many as 100,000 more active duty, National Guard and Reserve soldiers — could be coming if Congress allows billions of dollars in automatic budget cuts to continue next year.

Gen. Ray Odierno, Army chief of staff, said one additional brigade will likely be cut, but no final decisions have been made."I know in the local communities it will have its impact," Odierno told reporters Tuesday. "But we've done our best to reach out to them so they understand what the impacts are. We've tried to make it as small an impact as possible for as many communities as we could."Members of Congress, meanwhile, expressed concerns about the prospects for greater cuts down the road.Rep. Howard P. "Buck" McKeon, R-Calif., chairman of the House Armed Services Committee, said his panel "will carefully examine the implications of this initial restructuring, but we all must understand that this is only the tip of the iceberg, much deeper cuts are still to come."
Rep. McKeon (R-Calif.) is no stranger to making doomsday predictions when it comes to proposed cuts to the military. Referring to sequestration McKeon said, "For two years now, members of the Armed Services Committee have warned that sequestration would wound our national security and our economy."The pain from the first two rounds of President Obama's defense cuts are now being felt. Furloughs are just the beginning. Sequester's pain will intensify and strengthen. It will get far worse before it gets better."
Such comments come close to being comical when you consider what is actually being proposed in terms of defense cuts. The proposed cuts in spending if sequestration were to be implemented in its entirety are modest to say the least. Defense spending has doubled over the last decade. If all the cuts proposed under sequestration take place the military will be back to the level of spending it enjoyed in 2006. This kind of retrenchment represents no realistic threat to national security.The Cato Institute has estimated that defense spending could be halved with no deleterious effect on national security. Defense spending remains far too high. However, the fact that defense hawks have been unsuccessful in shielding military spending from basic fiscal sanity is sign of modest progress.