Neocons Are Quietly Freaking Out Over Rand Paul's Increasing Popularity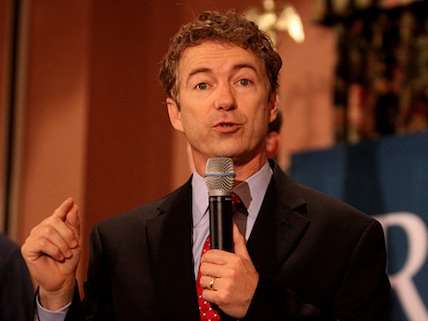 "Rand Paul's positions and rapid ascent have alarmed many Republican hawks," reports NRO's Robert Costa. "Behind the scenes, they're worried that he has a shot at the nomination."
What do the hawks plan to do about it? They're calling in The 'Stache, AKA former Undersecretary of State and U.N. Ambassador John R. Bolton:
Bolton, a former U.S. ambassador to the United Nations, is being encouraged by several leading conservative power brokers to consider a presidential bid.

Bolton, who briefly considered running for president in 2012, hasn't made up his mind. But sources tell me that he is moving closer to giving the idea serious consideration — serious enough to travel to Iowa and New Hampshire.

Later this year and throughout 2014, the former Reagan and Bush official will begin an informal national tour. He'll give speeches, huddle with GOP leaders, and push back against the party's libertarian shift. He'll make the case for a muscular foreign policy.

Sources say Bolton is also planning to launch a few related groups that will help elevate his argument and his national profile. Whether the efforts evolve into a presidential campaign in a couple years is unclear, but Bolton is, without a doubt, looking to be a player.
The GOP has all these hot young superstars–Marco Rubio, Ted Cruz, Mike Lee, Paul–plus some more seasoned folks–Scott Walker, Paul Ryan, Kelly Ayotte, Chris Christie–and the neocons push Bolton? How the mighty have fallen!