Fed Says QE Infinity To Keep on Going, For Now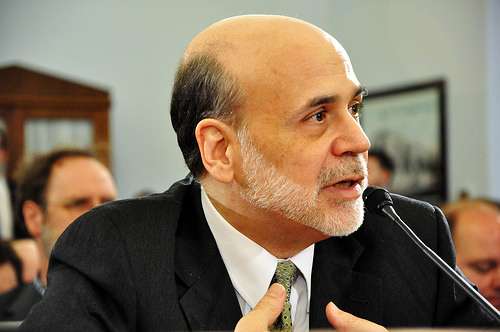 No real surprises from the most recent meeting of the Federal Open Market Committee. Despite some talk in the press of possible "tapering," the Federal Reserve's governing board said today that it will continue with its existing, open-ended bond-buying program, at least for the moment.
From the press release:
To support a stronger economic recovery and to help ensure that inflation, over time, is at the rate most consistent with its dual mandate, the Committee decided to continue purchasing additional agency mortgage-backed securities at a pace of $40 billion per month and longer-term Treasury securities at a pace of $45 billion per month. The Committee is maintaining its existing policy of reinvesting principal payments from its holdings of agency debt and agency mortgage-backed securities in agency mortgage-backed securities and of rolling over maturing Treasury securities at auction. Taken together, these actions should maintain downward pressure on longer-term interest rates, support mortgage markets, and help to make broader financial conditions more accommodative.
The Fed announced its open-ended bond-purchasing program—the third such round of quantitative easing (QE) it has undertaken since the start of the recession—back in September. The basic idea was that rather than pursue bond-buying programs designed to last for a set period of time, the Fed would continue to offer what it describes as "accomodative" monetary policy for as long as the Fed's governors thought it was necessary to help the support the economy. What today's decision to keep that program going tells us is that the Fed still thinks the economy is in weak enough shape that continued monetary support is necessary.
The Fed's statement, however, also suggests that it believes that such support might not be necessary for much longer. "Labor market conditions have shown further improvement in recent months, on balance," the statement says. The Fed's governing board also believes "downside risks to the outlook for the economy and the labor market as having diminished since the fall." In other words, the FOMC thinks the risks of a major economic decline are smaller than they used to be. So although the Fed still believes the economy needs help, it might not need it (or need as much) for much longer. Maybe the taper's coming soon after all?