Americans Want Less Spending, More Independents in Congress in 2014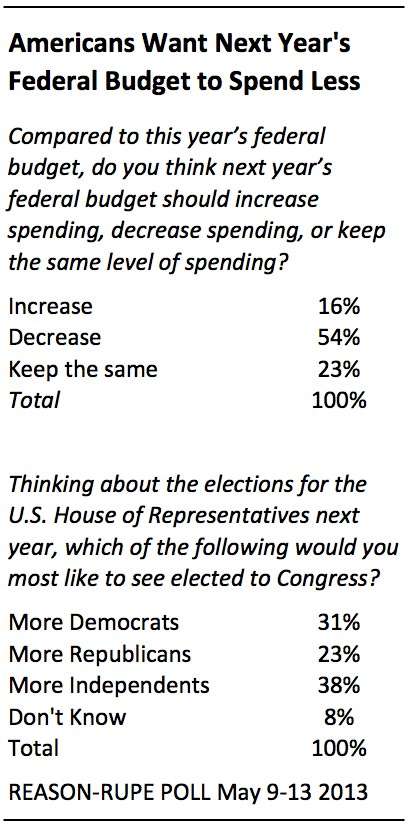 Three-quarters of Americans disapprove of the job Congress is doing and 57 percent say the country is headed in the wrong direction. With so much dissatisfaction, the new Reason-Rupe poll finds 38 percent of Americans would like to see more independent and third-party candidates win congressional seats in the 2014 midterms, 31 percent prefer more Democrats and 23 percent of Americans would like more Republicans elected next year.
No matter who is elected to Congress, Reason-Rupe finds 54 percent of Americans want the federal government to spend less money next year, 23 percent favor spending the same amount as this year and 16 percent would like to increase federal spending next year.
Half, 50 percent, of Americans approve of the job President Barack Obama is doing, while 43 percent disapprove. The president loses support on his handling of the economy, where 45 percent approve and 47 percent disapprove.
Nationwide telephone poll conducted May 9-13 2013 interviewed 1003 adults on both mobile (503) and landline (500) phones, with a margin of error +/- 3.7%. Princeton Survey Research Associates International executed the nationwide Reason-Rupe survey. Columns may not add up to 100% due to rounding. Full poll results found here. Full methodology can be found here. Demographics and detailed tables are available here.