Why Lois Lerner, the Bureaucrat Behind the IRS Scandal, Probably Won't Lose Her Job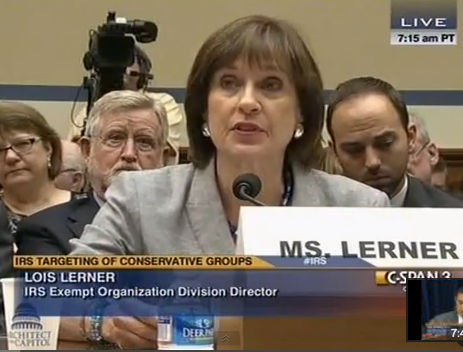 On May 22, just one day after visiting the White House, liberal pundits Ezra Klein and Josh Marshall both called for Lois Lerner, the head of exempt organizations for the IRS, to be fired for her role in the targeting of conservative groups seeking tax-exempt status. Two hours later, Salon's Joan Walsh demanded the same thing.
Their demands will likely go unheeded, as Dan Foster explains at National Review Online:
Statistically speaking, the firing of a federal employee is a rare event. A Cato Institute study showed that in one year, just 1 in 5,000 non-defense, civilian federal employees was fired for cause. A widely cited analysis byUSA Today found that in FY 2011, the federal government fired just 11,668 out of 2.1 million employees (excluding military and postal workers). That's a "separation for cause" rate of 0.55 percent, roughly a fifth the rate in the private sector.

The firing of employees who fit Lerner's profile is rarer still. Lerner is very much a "white-collar" employee, and the same analysis found that blue-collar employees (such as food-service workers) were twice as likely to be fired. Lerner is a twelve-year vet at IRS, and before that was associate counsel at the Federal Elections Commission for many years. But fully 60 percent of federal employees fired were in their first two years on the job. Lerner has averaged $185,000 in salary from 2009 to 2012, but only 0.18 percent of federal employees making more than $100,000 were let go for cause. Most relevant of all, Lerner is a lawyer, and just 27 of the government's 35,000 lawyers lost their jobs in 2011 — six fewer than left federal employment via the Big Sleep.

Part of the reason so few federal workers are let go is surely the, shall we say, culture of lowered expectations synonymous with government bureaucracy. But the greater part of it is that firings are complex and time-consuming. Forty-nine states have "at-will" employment laws, meaning that, specific contracts and covenants aside, a private-sector employer can let an employee go for any reason at all, with a few exceptions for things like discrimination and (ironically enough) the intimidation of whistleblowers. But in Washington, the process can take 18 months or more.
Not too long ago we ran a piece at Reason explaining why cops who routinely break the law seldom lose their jobs, something that defenders of public sector employees and their insanely generous job protections seem to forget pretty regularly.