Pussy Riot Member Banned From Her Own Parole Hearing, Begins Hunger Strike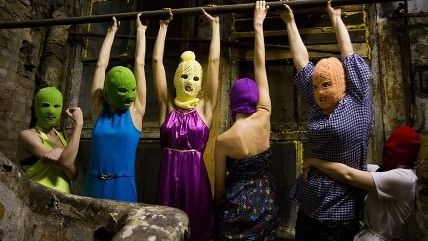 (Denis Bochkarev/wikimedia)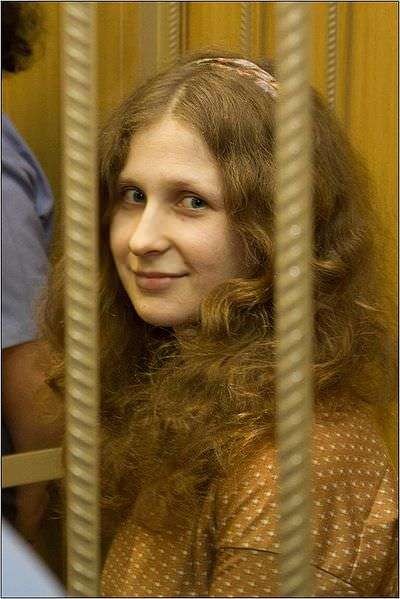 Jailed Pussy Riot member Maria Alyokhina has begun a hunger strike, protesting a court decision banning her from attending her own parole hearing.
Alyokhina and two of her fellow Pussy Riot members were sentenced to two years in prison for "hooliganism motivated by religious hatred" after performing an anti-Putin song in a Moscow cathedral. Yekaterina Samutsevich, another member of Pussy Riot, had her sentence suspended after her lawyers successfully argued she was restrained by guards outside the cathedral before she could get her guitar out of its case.
From The Guardian:
Maria Alyokhina, 24, also forbade her lawyers from further representing her during the parole hearing, becoming the most high-profile prisoner to reject taking part in a justice system widely criticised as absurd.

A regional court in Berezniki, a small city in the Urals region of Perm where Alyokhina's prison colony is situated, had denied the activist the right to appear at her parole hearing on Wednesday. She appeared via videolink, and was required to file all motions by fax, requiring regular breaks in the hearing.

At the end of the day-long hearing, she announced she would start a hunger strike. The parole hearing was due to continue on Thursday.

"Let the troika sitting here – the judge, the prosecutor and the colony employee – decide my fate," Alyokhina said at the close of Wednesday's proceedings, referring to the Soviet-era three-person commissions that issued sentences to perceived enemies without a trial.
The European Union recently expressed concern over Russia's human rights record, and last month Human Rights Watch released a report stating that, "The Russian government has unleashed a crackdown on civil society unprecedented in the country's post-Soviet history."