Ry Cooder Seeks 'Destruction' of Koch Brothers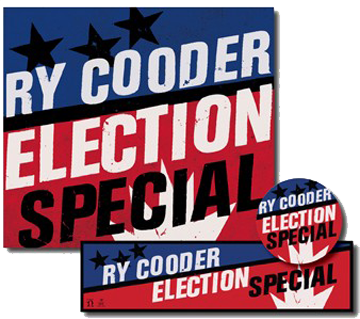 The labor/left/journalism axis has been continuing its agitation this week against a totally-rumored-at-this-point sale of the Tribune Co., which owns eight newspapers including the L.A. Times, to the libertarian businessmen/philanthropists and all-purpose right-wing bogeymen Charles and David Koch (the latter of whom sits on the Reason Foundation's Board of Trustees). Guest starring at one L.A. rally this week was none other than slide-guitar hero, Cuban-music anthropologist, and Reed College washout Ry Cooder. The LA Weekly sets the scene:
And then came Ry Cooder.
The roots musician and Santa Monica native opened by waving to the building that houses Oaktree [Capital Management, which owns a reported 23 percent of Tribune]. "I just want to say hello to Dave and Charlie," he called. "Here's to your destruction."

The song he sang was an old union song, "I Don't Want Your Millions, Mister" complete with Koch-inspired lyrics.
You may find it odd that an aging musician would be so energized in opposition to a newspaper-company sale, but it turns out that Cooder has an actual mini-discography devoted to the Kochs. Here, for example, is a ditty called "Brother Is Gone," in which Charlie and David meet Satan by the side of the road in Wichita, Kansas:
Read the lyrics here, including this strained stanza:
Oil spills and cancer towns was our steppin' stones
Immigration bills and foreclosure homes
States' rights we proclaimed like in the good old Jim Crow days
Our highest aim was to take your vote away
Who has the heart to tell Cooder that the Kochs—unlike the L.A. Times editorial board—are totally on his side regarding eminent domain abuse?
Previous writing on the Koch/Tribune rumors here.