IRS Targeting Tea Party Groups Is "Unconscionable," Says Rep. Darrell Issa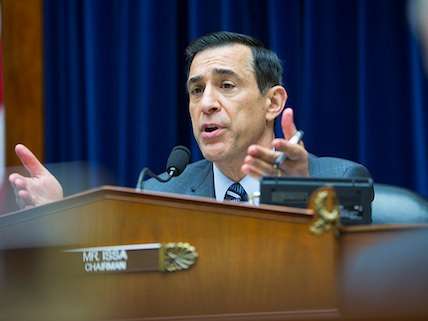 After the IRS admitted today that Tea Party and "patriot" groups "were singled out for additional reviews" during the 2012 election, House Oversight Committee Chairman Rep. Darrell Issa (R-Calif.) promised that his team would "aggressively follow up" on the revelations.
"The fact that Americans were targeted by the IRS because of their political beliefs is unconscionable,"Issa said in a statement released today. "The Committee will aggressively follow up on the IG report and hold responsible officials accountable for this political retaliation."
Issa first investigated reports of the IRS targeting Tea Party groups in spring 2012. Back then, IRS Commissioner Douglas told Congress, "There's absolutely no targeting. This is the kind of back and forth that happens to people."
Today, the IRS's Lois Lerner is singing a very different song: "That was wrong. That was absolutely incorrect, it was insensitive and it was inappropriate. That's not how we go about selecting cases for further review."
"In some cases," the AP reports in a story titled "IRS Apologizes for Targeting Conservative Groups," Tea Party organizations "were asked for their list of donors, which violates IRS policy in most cases."
Reason's Scott Shackford noted the story earlier today. Over at his post you can read the full complaint several Tea Party groups filed back in 2012.