If Immigration Reform Fails … Blame Gay Marriage?
Bipartisanship still has its limits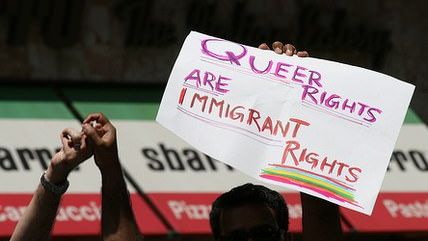 (rauchdickson / Foter.com / CC BY-NC-SA)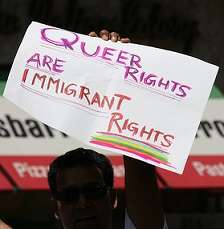 The bipartisan Gang of Eight's omnibus, 844-page epic love poem to new immigration bureaucracy that aims to make the process easier somehow does not include any provisions to assist gay foreign nationals who are in relationships with American citizens.
Politico notes that Democrats are considering an amendment to allow gay Americans to sponsor their partners for citizenship, but doing so could jeopardize everything due to Republican opposition:
Senate Judiciary Committee Chairman Patrick Leahy (D-Vt.) has told advocates that he will offer an amendment during the bill markup next week allowing gay Americans to sponsor their foreign-born partners for green cards, just as heterosexual couples can. The measure is likely to pass because Democrats face pressure from gay rights advocates to deal with it in committee, rather than on the Senate floor, where the odds of passage are far less favorable.

But by doing so, Republicans warn that Democrats will tank the whole bill.

"It will virtually guarantee that it won't pass," Sen. Marco Rubio (R-Fla.), a member of the Gang of Eight negotiating group, told POLITICO in a brief interview. "This issue is a difficult enough issue as it is. I respect everyone's views on it. But ultimately, if that issue is injected into this bill, the bill will fail and the coalition that helped put it together will fall apart."
Presumably, if the Supreme Court decides to strike down the Defense of Marriage Act (DOMA), the issue would be irrelevant, but it seems the fierce urgency of now blah blah blah:
Some Democrats were hoping that gay rights advocates would agree to hold off until the bill hit the Senate floor. By then, the Supreme Court could have rendered the issue moot by issuing a decision on cases with the potential to strike down the Defense of Marriage Act and requiring the federal government to treat gay married couples that same as straight couples.

But advocates aren't willing to wait. They don't want to gamble on the Supreme Court ruling in their favor. And the chances of drumming up 60 votes to add it on the Senate floor are slim.

"Immigration reform is a once-in-a-generation event at this point," Tiven said. "If LGBT families are left out of this bill, there may be no way to hold their family together in the United States."
Unless, as was just pointed out, DOMA is struck down. Now some Republicans are slowly warming to the idea that DOMA is bad legislation. Even if the Supreme Court does not rule against DOMA, its days may well be numbered.