Man Charged With Harassment for Calling Prosecutor With Questions About Police Shooting
No charges against the cops who did the shooting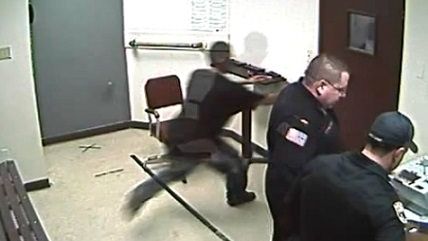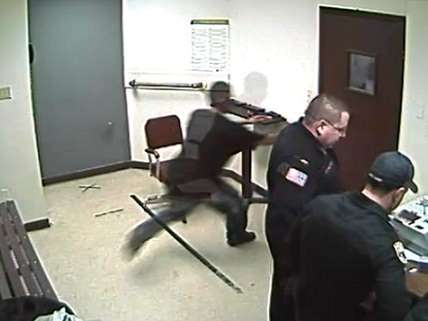 A year and a half ago, 19-year-old Malik Williams escaped from a police station in Garfield, New Jersey while being booked. He was chased outside (video here) and eventually shot after allegedly charging at them with a claw hammer and metal handsaw. A grand jury decided there wasn't enough evidence to charge any of the officers with a crime, but the desk duty cop was reprimanded for leaving his post during the escape and one of the two cops involved in the actual shooting has filed for an early disability retirement (he's in his mid-thirties according to local news reports).
There has, however, been a charge in relation to the shooting; a local coach is on trial for harassment for calling prosecutors with questions about the shooting. A ruling is expected tomorrow. From NorthJersey.com:
[Wayne] Harper is charged with harassment, a disorderly persons offense, for making repeated telephone calls to the Prosecutor's Office on March 7, 2012. The intent of those calls, police allege, was to harass employees of that office, including Prosecutor John L. Molinelli and his assistant, Patricia Scanlon.

According to witnesses at Harper's trial, the Prosecutor's Office received numerous calls that morning from people asking about the shooting of Malik Williams, a 19-year-old Garfieldresident who was killed by police three months earlier after he fled from the Garfield police station. Harper says he encouraged people to call the office, but he denies any responsibility for these specific calls.
Harper and others have questioned how someone could be charged with harassment for calls made to a public office during working hours.

"If they don't want to deal with the public, then they shouldn't work for the public," said Walter Luers, president of the New Jersey Foundation for Open Government. "This is a misuse of prosecutorial resources. They should be going after real criminals, not concerned citizens."
The prosecutor and his assistant recalled the horrors of that day in testimony:
Around 10:30 a.m. on March 7, 2012, an "exorbitant" number of calls started coming in to the Prosecutor's Office from people asking about the Williams case, receptionist Margaret Burns testified at Harper's trial, which was held over a three-day period starting in October.

The calls came "one after the other," in all about two to three dozen over a period of at least 20 minutes, Burns testified. On a normal day, her office receives about 40 calls an hour, she said.

[Prosecutor John] Molinelli was out of the office at the time, and he says he heard about the calls when he returned. Shortly after he arrived, Scanlon, his assistant, received a call from Harper.

Molinelli directed her to transfer the call to him: "I felt I needed to really resolve this issue," he testified.

Molinelli testified that Harper demanded to know the status of the case and "when justice would be done." He advised Harper that he could not comment, but Harper would not accept that and kept interrupting and questioning Molinelli. Finally, Molinelli testified, he told Harper that if he called again, he would be charged.
"Public service," good work if you can get it.