Ron Paul Launches Foreign Policy Institute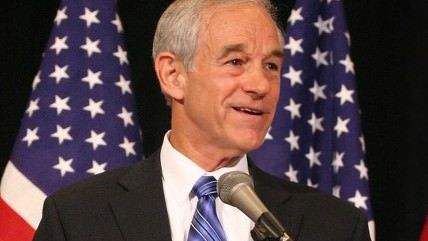 (R. DeYoung / Foter.com / CC BY)

Today, the Ron Paul Institute for Peace and Prosperity (a project of Paul's Foundation for Rational Economics and Education) was launched at an event in Washington D.C. The institute will be run by Paul's former congressional foreign policy aide Daniel McAdams, who was among the speakers. Other speakers at the event included Ron Paul as well as Rep. Walter Jones, Jr. (R-N.C.), Rep. John Duncan, Jr. (R-Tenn.), and former Rep. Dennis Kucinich, who are all members of the institute's board of advisors. Lew Rockwell, Andrew Napolitano, and former Ambassador Faith Whittlesey did not speak at the event but are on the institute's board of advisors. Rep. Thomas Massie (R-Ky.), who is not on the board of advisors of the institute, also spoke at the event.
At today's event McAdams framed the Ron Paul Institute for Peace and Prosperity as a continuation of Ron Paul's non-interventionism and civil libertarianism. The institute will focus on educating people of the principles of a non-interventionist foreign policy and the importance of civil liberties by offering a number of programs such as a summer school and a series of seminars and featuring a blog that will host timely commentary on foreign policy and civil liberties. The website will also feature a "Peace and Prosperity Index" that will grade members of Congress based on votes casts on bills that affect foreign policy and civil liberties.
Rep. Jones spoke early on at the event and mentioned how much he regrets that he voted for the war in Iraq and lamented that war is accepted but not debated in Congress. Former Congressman Kucinich said, "…this institute has so much importance because it will provide a place for people to gather from across the political spectrum so that we can as Americans address our commons concerns about freedom, about peace, about prosperity and in doing so help to rescue our country from a trajectory that it's own right now that can only lead to our destruction." Rep. Duncan told of how he was called to the White House before the most recent war in Iraq to meet with Condoleezza Rice, George Tenet, and John McLaughlin who tried to convince Duncan of how dangerous Saddam Hussein was despite not having any evidence of an imminent threat. Rep. Massie described the first time he voted against the party (something Ron Paul did plenty of times) and how a staffer of the leadership told him, "We are not whipping this bill today so you can vote how you want."
During the Q&A McAdams said that the institute will not be a traditional think tank, saying that "the era of long detailed policy papers is over" and that he hopes that the Peace and Prosperity Summer School will be launched in the summer of 2014.
Given the current state of affairs around the world the Ron Paul Institute for Peace and Prosperity should not be left wanting for material to discuss. The situations in Afghanistan, Syria, Mali, Myanmar, and Somalia as well as America's relationships with Iran, Cuba, North Korea, and Venezuela are all timely and relevant foreign policy topics that libertarians interested in foreign policy should be discussing.
Check out the institute's website here.