Thatcher's Death Prompts Street Parties and Gleeful Tweets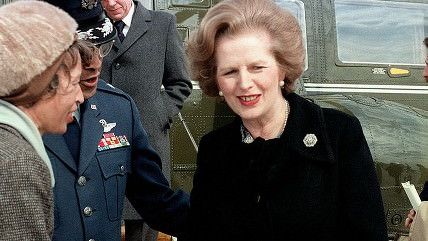 (U.S. Military/wikimedia)
Yesterday British police made arrests at two separate street parties celebrating the death of Margaret Thatcher. According to The Guardian officers were injured during clashes with protesters (or "partygoers" depending who you ask) in Bristol. In Brixton, a district of London, hundreds of people came together to celebrate Thatcher's death after plans for the celebratory event were announced on Facebook.
Celebrations also took place in northern England and Glasgow in Scotland. From The Guardian:
In Leeds, a group gathered to hand out "Thatcher's dead cake", singing and cheering at one of several street parties. In YouTube footage a man is seen chanting 'If you all hate Thatcher clap your hands' into a megaphone. While in Liverpool, where many reviled Thatcher for her role in the closure of the city's docks and her perceived role and views on the Hillsborough disaster, there was a gathering lit by red flares on the steps of Lime street station. Police said they had not been called to any disturbances in the city related to the former prime minister's death.

Around 300 people gathered in Glasgow's George Square which experienced highly charged poll tax protests in 1989, after the introduction of one of Thatcher's most divisive measures. Revellers wore party hats, and popped a bottle of champagne while streamers were thrown into the sky. Groups such as the Communist party, the Socialist party, the Anti-Bedroom Tax Federation and the International Socialist Group were joined by members of the public. Martin Chomsky, the lead singer of Chomsky Allstars, performed his song So Long Margaret Thatcher in George Square. "There are mixed emotions. I was never brought up to celebrate anyone's death but the pain she brought to Latin America, Europe and around the world should be remembered," he said.
Members of the public were not the only ones to express their delight over Thatcher's death. Renowned Member of Parliament George Galloway took to twitter to make his thoughts on Thatcher known:

and later: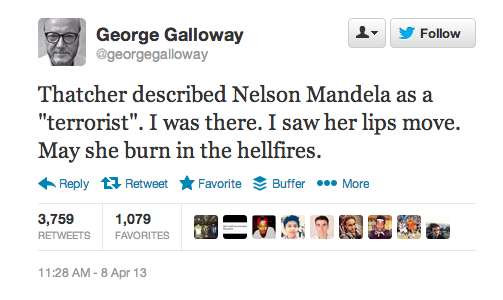 Galloway wrote a blog post outlining his objections to Thatcher that concludes with the following:
I hated Margaret Thatcher for what seems like all my life. I hated her more than I hated anyone – until the mass murderer Tony Blair came along.

It would have been utter hypocrisy for me to have remained silent about her crimes today whilst the political class – including New Labour – poured honeyed words, lies actually, over her blood-spattered record.

I could not do it. I believe I spoke for millions. The wicked witch is dead. Tramp the dirt down.
Labour Councilor Tina Bourne tweeted a photo of a bottle of champagne with the text "Chin chin everyone." She later apologized.
Twitchy has put together a collection of some photos and tweets from gatherings celebrating Thatcher's death.
Read more from Reason.com on Thatcher here.
Thatcher contributed to Reason Foundation's 2006 Annual Privatization Report, which can be read here.