ObamaCare Was Designed, Passed, and Implemented by Democrats. Obviously Republicans Must Be Responsible for Its Failures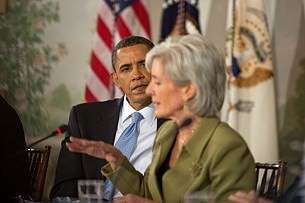 It was probably inevitable that as ObamaCare began to fail, Republicans would get the blame. After all, Republican legislators in Congress didn't vote for it, Republican voters have never supported it, and nearly every Republican governor has let the federal government build and run the law's health exchange in their state. Republican critics of the law warned before it was passed that it would be too expensive, to complicated, and too onerous on both individuals and businesses. So of course now that the implementation process has begun to reveal signs of trouble, it's the Grand Old Party's fault. Who else could possibly be responsible?
If you want the complete argument for why Republicans are the culprit here, you can find it in Think Progress health wonk Igor Volsky's piece making the case for, in his words, "why Republicans are to blame for ObamaCare's delays." The piece is hooked to this week's announcement that the choice option in ObamaCare's small business exchanges would be delayed for a year, and the short version is that because Republicans refused to implement the law themselves in the states and have declined to provide additional funding for implementation at the federal level, the GOP is on the hook for delays and failures.
It's hard to blame Republicans for the delay of the small business choice option: it's not something that Republicans have focused on to any great degree, and the main reasons for the delay seems to be a the technical challenge of designing a multitude of plans that fit the exchange requirements and the administrative burden of having to design those plans while working on other exchange features in the law. Republican opposition doesn't have anything to do with it.
Overall, Volsky makes a good try, but sorry, no: Democrats are to blame for the failures and problems of a law designed by Democrats, passed by Democrats, and implemented by Democrats. That it is not working now is the fault of the people who said it would work, decided to try making it work, and are now tasked with the responsibility to make it work. They are failing, and the law is failing because of them—not because of Republicans.
More generally, though, this offers a lesson in why it's ill advised to pass major legislation on strict party lines that is supported by neither the opposition party nor the bulk of the public. Especially when the law is predicated on the assumption that the opposition will cheerfully help with implementation. That Democrats seem to have assumed that Republicans would give in and play ball suggests some mix of deep arrogance, wishful thinking, and willful ignorance of the national political dynamic. It's just plain bad policy design: A law passed by Democrats that can only work if Republicans decline to oppose the law is a law that almost certainly will not work.
And sure enough, three years after passage, ObamaCare shows signs that it might not be quite as wonderful as promised. But ObamaCare's supporters are so determined to avoid admitting that it might be a failure—or even just less functional than they insisted it would be—that they are refusing to take responsibility for the politically troubled bureaucratic mess they created.