Democrats You Might Have Thought Already Supported Gay Marriage Announce Actually Supporting Gay Marriage
Evolution speeds up
Mike Riggs took note earlier of Sen. Mark Kirk joining Sen. Rob Portman today as a Republican supporting same-sex marriage recognition.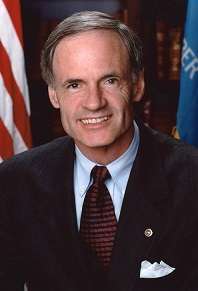 Democratic politicians are also jumping on the bandwagon, which may come as a surprise to those who thought same-sex marriage recognition was already a solid plank in the party's platform. The Democratic Party may be further along than the Republicans, but they're not as far as they like to think. Just ask Illinois residents, who are struggling to get gay marriage recognition through the state legislature, despite a Democratic supermajority.
Democratic Delaware Sen. Tom Carper announced his support for same-sex marriage recognition today on Facebook. Delaware's Democratic Rep. John Carney made a similar announcement yesterday, as did Pennsylvania Sen. Bob Casey. Steve Benen at MSNBC notes that with Carper's announcement, only seven Democratic senators have yet to throw their support behind gay marriage recognition.
Could it be that by the time the Supreme Court rules on the Defense of Marriage Act case it just heard last week there might be enough political will to strike it down regardless? Perhaps there really shouldn't be any fear of the Supreme Court punting on the issue and leaving marriage rules up to the states.
The GOP-led House of Representatives would be a tougher battle, but Mich. Rep. Justin Amash (all over our site this week) told the Huffington Post last week he supports eliminating DOMA (a shift in his position from 2010) as part of his libertarian belief that the government should get out of marriage entirely. On the other hand, Republican Rep. Matt Salmon of Arizona is not taking the Portman route. He has a gay son, but still opposes same-sex marriage recognition. On the other, other hand Republican Rep. Jeff Flake, also of Arizona, could see a future GOP presidential candidate supporting same-sex marriage recognition, even though he does not. Like I said in March, the Republican Party's going through some major shifting in their views on gays and gay marriage recognition. I am very curious as to what their party platform will have to say on the matter come 2016.