Studio Pulls China Reference in World War Z to Secure Chinese Distribution, China Cracking Down on Apple in Company's Second Largest Market
Access to Chinese markets controlled by the state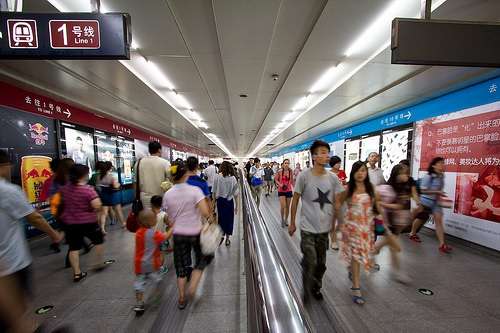 Paramount Studio suggested to producers of the film World War Z to remove a minor reference to China, because they want to secure a release in China for the planned summer blockbuster, according to TheWrap:
Normally the detail would not have merited discussion at the top echelons of the studio. But given the fast-rising prominence of the Chinese market, state censorship and the quotas for U.S. releases, the studio advised the movie producers to drop the reference to China and cite a different country as a possible source of the pandemic, an executive with knowledge of the film told TheWrap.

The change was made in recent days in the hopes of landing a deal for one of Paramount's biggest summer movies to play in China, the world's fastest-growing film market…

China passed Japan as the largest international source of box office revenue in 2012, contributing $2.7 billion, a 36 percent increase over the previous year. And some analysts say the Asian giant will pass the United States in standalone box office revenue by 2020.
Meanwhile, Apple, one of America's largest multinational firms, is running into resistance in its attempt to penetrate China, which is already its second largest market. Via Cult of Mac:
Gatekeepers of the world's largest and one of the fastest growing markets for every product Apple makes, the Chinese Communist Party-controlled government has decided to stop and reverse Apple's growth in the country… Cult of Mac was the first blog or publication to suggest that recent press attacks against Apple could indicate a larger campaign by China's government to "screw" Apple.

That piece two weeks ago was based on a blistering report on CCTV, the world's largest TV network, and one that happens to be owned and controlled by the Chinese government. In the report, Apple was singled out for discriminating against Chinese customers with both its iPhone replacement policy and its one-year warranty. (In fact, Apple's policies in China are identical to those in the United States.)

The government OR CCTV were even caught orchestrating a campaign to get prominent celebrities to bash Apple on Chinese social media…

This week, China's State Administration for Industry and Commerce, claiming to be responding to "widespread reports" that Apple's warranty is "hurting" Chinese customers, called for "subordinate agencies all across China" to crack down on Apple. Then, China's General Administration of Quality Supervision, Inspection and Quarantine ordered Apple to double its warranty to two years.
Can you imagine the government cracking down on a business here to possible gin up custormers for its own services?