Feeding the Homeless Without Permission No Longer Illegal in Dallas–If You Have the Right Motive
Great news for religious freedom out of Dallas, from CBS Dallas/Fort Worth: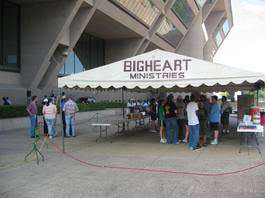 For 30 years, Don Hart fed the homeless in Dallas.

"I feel like it's God's appointment," he said.

With his BIGHEART Ministries, he fulfilled his calling, helping clothe and counsel the crowds who came to him for a meal.

"It grew, grew, grew… until we were feeding thousands of people," he said…..

In 2005, the city of Dallas passed an ordinance, requiring organizations feeding the homeless to get the city's approval, provide bathrooms, and meet a list of public safety requirements.

Hart said he spent hundreds of thousands of dollars trying to comply.

"It kept getting worse, until finally police were coming out," said Hart.

One day, Hart-Ball remembers seeing a dozen police cars. Officers, she said, began questioning the volunteers.

"They're ready to take us to jail – for what? Praying for people? Scrambling eggs?" said Hart-Ball.

Hart filed a lawsuit against the city, which stretched out for almost seven years.

Finally, Thursday morning, a judge ruled the city's ordinance violated Texas law protecting Hart's religious freedom….

This Easter Sunday, he says, will mark the resurrection of his ministry.

He and his daughter plan to be back on the streets, serving the homeless.
But as Dallas Observer, uh, observes, the decision is more limited than it ought to be:
U.S. District Judge Jorge Solis ruled that the city's ordinance amounts to a violation of Big Heart's and Rip Parker Memorial's rights under the Texas Religious Freedom Restoration Act, which bars state and local government a government from doing anything that might "substantially burden a person's free exercise of religion."

But the victory is a narrow one. The city's homeless feeding ordinance remains intact, except where it concerns the plaintiffs and, by extension, other groups who feel a religious duty to serve the underfed. Those of you who simply feel sorry for the unhoused, without the backing of religious conviction? Drop those plans to hand out sandwiches on a street corner. You're better off just volunteering at The Stewpot, unless, of course, you enjoy six-year legal battles.
Feeding the homeless in Dallas as you please: legal if you do it for the right motive; otherwise, thoughtcrime.