Harvey Milk's Mixed Legacy
Assessing the pioneering gay politician.
An Archive of Hope: Harvey Milk's Speeches and Writings, edited by Jason Edward Black and Charles E. Morris III, University of California Press, 280 pages, $34.95.
The gay liberation movement burst into the country's consciousness in 1969, when thousands of gays in Manhattan rioted against endemic police harassment following a raid on a gay bar called the Stonewall Inn. Gays and lesbians began coming out of the closet in droves, and the city of choice for thousands of them was San Francisco, home to a large gay subculture since the end of World War II.
In spite of their large numbers, San Francisco's gay population found the city's conservative Catholic mayor, Joseph Alioto, less than hospitable, and the police force was constantly on the attack. By the early '70s, the city's gay community was ready to claim its full legal and political rights alongside other previously disenfranchised minorities.
In 1973, a Jewish businessman and investment banker from Manhattan named Harvey Milk thrust himself into this increasingly volatile mix. His activism eventually led him to be called the Mayor of Castro Street, the Castro being the mostly gay section of the city. In 1977, he became the first openly gay person elected to public office in the country when he won a seat on the San Francisco Board of Supervisors. He fell to an assassin's bullet after serving less than a year in office.
An Archive of Hope is an anthology collecting many of Milk's speeches, newspaper columns, and campaign flyers from his relatively short political career, beginning with his first race for city supervisor in 1973, when he was opposed by most of the gay establishment and lost badly, and ending with several pieces written shortly before his murder on November 27, 1978. Although the book's editors, Jason Edward Black and Charles E. Morris III, frequently lapse into politically correct prose, their introduction and explanatory text accompanying each piece provide a useful and interesting history of the political and sexual culture of San Francisco in the 1970s, though the vocal presence of the city's Libertarian Party and its intersection with the gay rights movement is ignored.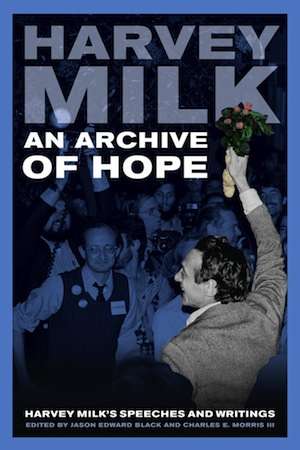 His earliest political beliefs were those of a Goldwater Republican, but Milk the politician came out of a fairly typical progressive mold. While gay rights was his signature issue, he staked out a variety of left-liberal positions—pro-union, anti-corporation, pro–civil rights, anti–police brutality—that often put him at odds with the gay political establishment, which was relatively conservative at the time. Labeled as "gradualist" and "accomodationist" by the book's editors, most gay leaders of the day were content to rely on their straight allies in the Democratic Party establishment to advance their agenda rather than turn to a brash, openly gay candidate many considered a carpetbagger.
Milk took every opportunity to differentiate himself from most in the city's gay establishment, at one point telling the New York Times: "I'm a left-winger, a street person….Most gays are politically conservative, you know, banks, insurance, bureaucrats. So their checkbooks are out of the closet, but they're not…all the gay money is still supporting Republicans except on this gayness thing." His less than engaging attitude toward those who disagreed with him no doubt played a part in his early political defeats. But when the city switched from citywide representation to district elections in 1977, Milk finally won a seat, primarily because he won a majority of the gay vote. (He attracted only 30 percent of the total vote, but in a field of 14 candidates that was enough to win.) He served fewer than 11 months before former supervisor Dan White shot him and Mayor George Moscone.
Unfortunately, Milk's sometimes strident and divisive rhetoric against other gay leaders is still with us today, along with many of the same political divisions in the gay community. Milk used to deride his gay opponents as "Aunt Marys," comparing them to the Uncle Toms in the black community. Rep. Barney Frank, the just-retired gay congressman from Massachusetts, for example, repeatedly derided the Log Cabin Republicans, a gay Republican group, as gay Uncle Toms for supporting Mitt Romney's presidential campaign. In fact, a quarter to a third of gay voters routinely vote Republican, a fact that would no doubt rankle Milk if he were alive today.
Perhaps because of their political biases, the editors of Archive of Hope don't get everything right. They discuss at some length Proposition 6 (the so-called Briggs Initiative), a 1978 California ballot measure promoted by an anti-gay right-wing state senator named John Briggs that would have prohibited any gay person from teaching in the state's public schools. As Briggs argued, "If you let one homosexual teacher stay, soon there'll be two, then four, then 8, then 25—and before long, the entire school will be taught by homosexuals."
Harvey Milk, by this time a city supervisor, understandably spent many days campaigning against Prop. 6, debating with Sen. Briggs and exhorting the gay community to become more active in campaigning against it. The editors credit Milk with its defeat: It began with a big lead but lost on election day by a whopping margin of 58 to 42 percent. Yet far more effective in turning conservative and middle-of-the-road voters against the proposal was former governor Ronald Reagan*, who publicly denounced the measure. The anti-Briggs campaign coalition even produced a flyer highlighting Reagan's opposition to the measure, which was certainly more effective with mainstream voters than anything Harvey Milk could have said.
Still, Milk rightfully shares some of the credit for the Proposition 6's defeat, which was widely considered the greatest victory to date for the American gay rights movement. His efforts certainly boosted Milk's reputation.
One can only speculate about whether Milk, had he lived, would have widened his base of support and gone on to higher office. In 1999, more than 20 years after his death, Time magazine named him as one of the 100 most influential figures of the 20th century. Not a bad legacy for a political career that spanned barely five years.
* This article originally identified Ronald Reagan as the governor during the debate over the Briggs Initiative. He was no longer in office at the time.