Obama's Case for Gun Control: One Emotion-Laden Non Sequitur After Another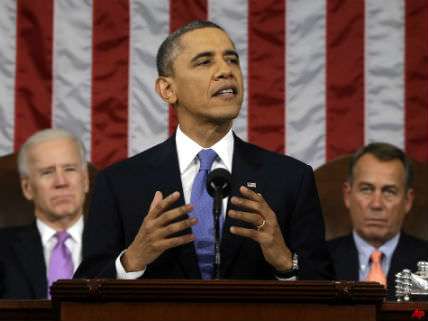 During last night's State of the Union address, President Obama did not make a case for gun control. Instead, as usual, he made an emotional appeal:
What I've said tonight matters little if we don't come together to protect our most precious resource: our children. It has been two months since Newtown. I know this is not the first time this country has debated how to reduce gun violence. But this time is different. Overwhelming majorities of Americans—Americans who believe in the Second Amendment—have come together around common-sense reform, like background checks that will make it harder for criminals to get their hands on a gun. (Applause.) Senators of both parties are working together on tough new laws to prevent anyone from buying guns for resale to criminals. Police chiefs are asking our help to get weapons of war and massive ammunition magazines off our streets, because these police chiefs, they're tired of seeing their guys and gals being outgunned.

Each of these proposals deserves a vote in Congress. (Applause.) Now, if you want to vote no, that's your choice. But these proposals deserve a vote. Because in the two months since Newtown, more than a thousand birthdays, graduations, anniversaries have been stolen from our lives by a bullet from a gun—more than a thousand.

One of those we lost was a young girl named Hadiya Pendleton. She was 15 years old. She loved Fig Newtons and lip gloss. She was a majorette. She was so good to her friends they all thought they were her best friend. Just three weeks ago, she was here, in Washington, with her classmates, performing for her country at my inauguration. And a week later, she was shot and killed in a Chicago park after school, just a mile away from my house.

Hadiya's parents, Nate and Cleo, are in this chamber tonight, along with more than two dozen Americans whose lives have been torn apart by gun violence. They deserve a vote. They deserve a vote. (Applause.) Gabby Giffords deserves a vote. (Applause.) The families of Newtown deserve a vote. (Applause.) The families of Aurora deserve a vote. (Applause.) The families of Oak Creek and Tucson and Blacksburg, and the countless other communities ripped open by gun violence—they deserve a simple vote. (Applause.) They deserve a simple vote.

Our actions will not prevent every senseless act of violence in this country. In fact, no laws, no initiatives, no administrative acts will perfectly solve all the challenges I've outlined tonight. But we were never sent here to be perfect. We were sent here to make what difference we can, to secure this nation, expand opportunity, uphold our ideals through the hard, often frustrating, but absolutely necessary work of self-government.
I was with him until that seventh word. The rest is a ritualistic invocation of dead children aimed at manipulating people into supporting policies that have nothing to do with the event that supposedly demonstrated their necessity. Background checks and magazine limits would not have made any difference in Newtown, and a ban on military-style semiautomatic rifles (which Obama misleadingly calls "weapons of war") demonstrably did not: Connecticut has such a law, and it did not stop Adam Lanza. Banning the particular rifle that he used, as Sen. Dianne Feinstein (D-Calif.) has inanely proposed, is mere symbolism given that would-be mass murderers have many equally lethal alternatives.
While he opens his discussion of gun control by referring to the Sandy Hook massacre, Obama focuses on Hadiya Pendleton, a teenager killed in a Chicago park on January 29 by an 18-year-old named Michael Ward who mistook one of her companions for a rival gang member. That kind of bait and switch is familiar: When you point out that the measures proposed in the wake of a mass shooting cannot reasonably be expected to prevent mass shootings, gun controllers say their real concern is more common forms of gun violence (although they never mention the role that drug prohibition plays in the deaths of gang members and bystanders, probably because the solution to that problem involves repealing old bans rather than imposing new ones).
All right, then: How might a a ban on "assault weapons," a 10-round limit on magazine capacity, or a broader background check requirement have saved Hadiya Pendleton? Ward, who apparently used a revolver, fired six rounds. He was on probation for a weapons offense, and I am guessing he did not obtain the gun he used from someone who will suddenly start running background checks on his customers if that is what the law requires. Likewise, although Obama claims Congress "can prevent anyone from buying guns for resale to criminals," all it can really do is jack up the penalties for something that is already a crime.
Well, Obama says, you can't expect to "prevent every senseless act of violence." But if the policies he favors would not prevent the sorts of homicides he cites, why is he citing them? What are the situations where he imagines these measures would make a difference, and exactly how might that work? Obama's proposals assuredly do not "deserve a vote" if all he can offer in their favor is one emotion-laden non sequitur after another.