Obama and The Debt: A Love Story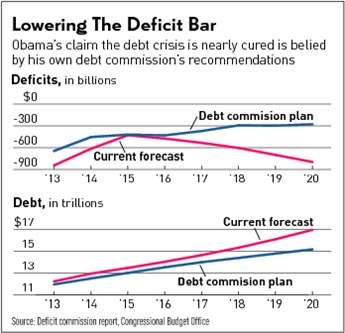 Last night in his State of the Union address, President Barack Obama claimed
Over the last few years, both parties have worked together to reduce the deficit by more than $2.5 trillion… As a result, we are more than halfway towards the goal of $4 trillion in deficit reduction that economists say we need to stabilize our finances.
The folks at Investors Business Daily suggest that the president's fudge factor on that claim should induce the political equivalent of a diabetic coma:
When the [president's debt] commission filed its report in 2010, the national debt was $9 trillion, or about 63% of the nation's GDP. The national debt today is over $12 trillion, and has already surpassed 76% of GDP.

Had the debt commission's plan been adopted, the deficit this year would be $646 billion, and on its way down to $279 billion by 2020. And the debt would be holding steady at about 65% of GDP.

Instead, this year's deficit will be $845 billion — even after the alleged $2.5 trillion in savings that Obama touts — and will start climbing again in three years, reaching back up to $1 trillion by 2023, according to the latest forecast from the Congressional Budget Office.

The national debt, meanwhile, never drops below 73% of GDP, according to the CBO, and starts climbing after 2018, reaching 77% of GDP by 2023.
As a technical note, the figures above represent debt held by the public, which is a subset of total federal debt. When you factor in the debt that government agencies owes to each other (the gross debt), the current figure is actually $16.4 trillion, or more than 100 percent of GDP. That's important because when gross debt is greater than 90 percent of the economy for five years, economic growth tends to slow by 1 percentage point a year for periods that can last for 20 or more years. As awful as it is to have public debt levels climbing toward 80 percent of GDP, the fact that we've had gross debt higher than 90 percent of GDP since 2008 means we're in a "debt overhang" situation that may well retard growth for the next quarter-century.