Louisville Cops Mistook Purple Heart Recipient for Vagrant, Harassment Ensued, Lawsuit Alleges
Lt. Col. Donald Settle suffered a brain injury in a suicide bombing in Afghanistan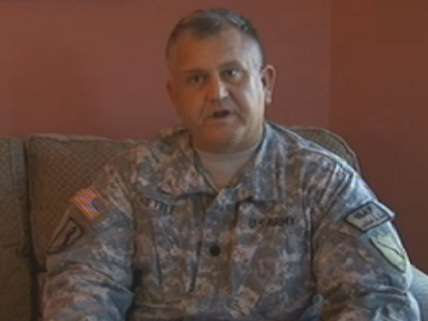 Donald Settle, a lieutenant colonel in the U.S. Army and a recipient of a purple heart and two bronze stars, is suing the Louisville Metro Police Department in Kentucky for an incident last year where he claims police harassed him at the mall after they mistook him for a homeless person. Settle suffers from a brain injury sustained in a suicide bombing in Afghanistan. His account of the incident, from the local NBC affiliate:
Settle said he was getting a gift card at Mid-City Mall in the Highlands when he said an LMPD officer asked him to leave the mall.

"I said 'have I done something wrong?' He said 'well, there's no pan-handling in here,'" Settle said.

Settle said he was wearing a sweatshirt and sweat pants with a Wounded Warrior logo and an arm cast. A portion of his clothing was dirty with drywall dust.

"He said 'you need to get your hands up out of your pockets up in the air where I can see them.' When I looked back, he had his taser up in my face," said Settle.

Settle said five or six officers then forced him down to the ground and used excessive force against him. He said the officers asked him all sorts of questions, but he had trouble answering because of his brain injury. He said he tried to explain to them he was a Fort Knox soldier.

"It's probably the greatest challenge that I'm going through right now," Settle said.
Settle filed a complaint with the police department but he and his lawyer said not enough was done in response, so he's filed a lawsuit. What did the police department said it did? "A complete and thorough investigation was conducted. As a result of that, LMPD has been working with the officials at Fort Knox with their Wounded Worriers program. Also, during the 2013 LMPD in service training for officers, a block of instruction for traumatic brain injuries will be advanced," according to a statement from the department.