Colorado Cop Facing Felony Animal Cruelty Charge For Shooting Dog to Death
Shot dog five times while trying to restrain it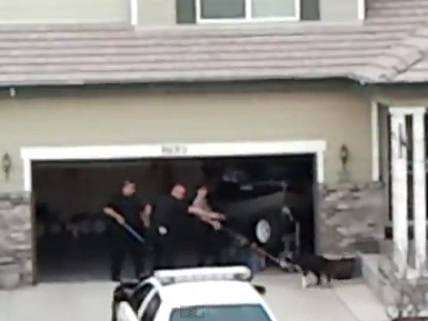 A Commerce City, Colorado cop who shot a three-year-old mixed-breed after responding to a call about a vicious loose dog appeared in court today to face one charge of felony animal cruelty. The cop, Robert Price, was caught on camera, by a neighbor with a cellphone, shooting the dog, Chloe, five times while he and two other officers tried to restrain it. The officer appears to pull his gun out early on in the incident (video below). The police union, naturally, is coming to the officer's defense. From the local NBC affiliate 9 News:
The Fraternal Order of Police says Price is wrongly accused, and they showed up to support the officer.

"The Fraternal Order of Police finds the charging of this officer outrageous, and not within the scope of the event," the Fraternal Order of Police released. "We have our opinion as to why the DA charged the officer. In light of the atmosphere surrounding this circus, you can judge why for yourself."
The prosecution of a cop for the death of an animal is rare, but could be a sign of things to come, as the Denver Post reported last month:
Animal Law Center lawyer Jennifer Edwards, who might file a civil claim on behalf of the dog's owner,Gary Branson, called the case a turning point in animal law.

"In general, there is a growing trend for justice for animals, but this is definitely a turn in the right direction," said Edwards, who represented the owner of a dog killed by Brighton police in 2008.
More Reason on puppycides.
Video of the incident (shooting starts at about 2:11):
h/t Hugh Akston