How Does the Sandy Hook Massacre Demonstrate the Need for Gun Controls That Have Nothing to Do With It?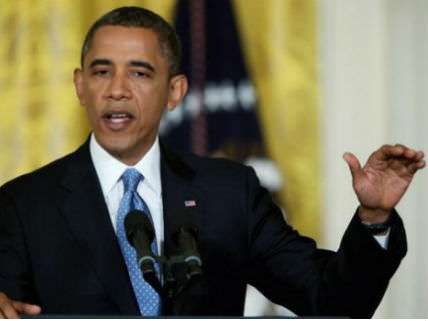 On Monday I argued that it's fair to judge President Obama's gun control agenda, which he is unveiling today, by the extent to which his proposals can realistically be expected to prevent mass shootings like last month's attack at Sandy Hook Elementary School in Newtown, Connecticut. Why? Because that is how he himself described his goal: "to make sure that the kinds of violence we saw at Newtown doesn't happen again" and to "make sure that somebody like the individual in Newtown can't walk into a school and gun down a bunch of children in a shockingly rapid fashion." That was the bait. Here comes the switch:
A new federal assault weapons ban and background checks of all gun buyers, which President Obama is expected to propose on Wednesday, might have done little to prevent the massacre in Newtown, Conn., last month. The semiautomatic rifle that Adam Lanza used to shoot 20 schoolchildren and 6 adults complied with Connecticut's assault weapons ban, the police said, and he did not buy the gun himself….

[Recent mass] shootings, whose victims have included a member of Congress in Arizona, moviegoers in Colorado and first graders in Connecticut, have horrified the country and inspired Washington to embark on the most extensive re-examination of the nation's gun laws in a generation. But some of the proposals that Mr. Obama is expected to make at the White House on Wednesday, which are likely to include a call for expanded background checks, a ban on assault weapons and limits on high-capacity clips, will be intended not only to prevent high-profile mass shootings, but also to curb the more commonplace gun violence that claims many thousands more lives every year.

"The president has made clear that he intends to take a comprehensive approach," Jay Carney, the White House press secretary, said Tuesday. Mr. Carney said the proposals were aimed, broadly, at what he called "the scourge of gun violence in this country."
As I said last month:
After a mass shooting, gun controllers push the policies they've always supported as if they were a logical response to that particular example of senseless violence. When skeptics say it is hard to see how the proposed measures could have prevented that attack, gun controllers (if they are honest) say that's beside the point, because the real goal is not preventing the rare mass shootings that get all the attention but curtailing more common forms of gun violence. If so, the horrible event that supposedly makes new legislation urgently necessary does not in fact strengthen the case for that legislation one iota. If the proposed policy was a good idea before the attack, it remains a good idea; if it was a bad idea, the emotionally compelling but logically irrelevant deaths of innocents do not make it suddenly sensible.
Let us try to keep that in mind as the president, surrounded by children, argues that the Sandy Hook massacre demonstrates the need for gun control policies that have nothing to do with the Sandy Hook massacre.