Few Answers in New Year's Eve Police Shooting in North Carolina
Four heavily armed cops showed up dressed in all black, according to the family; a daughter and a cop were both hit by a submachine gun that went off.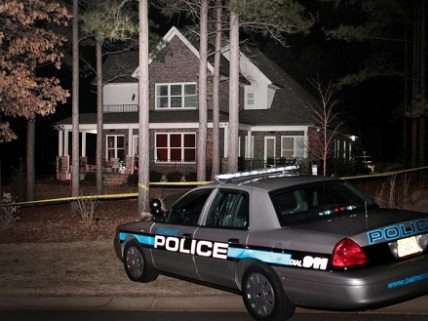 Melissa Verner, an economics student at UNC Charlotte, was left with shrapnel permanently embedded in her leg after an encounter with four heavily armed police officers in the garage of her family's home in Belmont, North Carolina, according to the Gaston Gazette. Try to follow along:
It's been nearly two weeks since Andrea and Glenn Verner and their daughter Melissa were confronted in the garage of their Belmont home by four heavily armed officers who forced them to the ground and placed them in handcuffs.

Sgt. Brad Pickert's submachine gun went off during a scuffle with 24-year-old Melissa, injuring her and Belmont Officer Randy Berry…

Cops arrived at the Verner home… after receiving a call about a shot being fired in a road rage incident nearby. Police say Melissa Verner's boyfriend, Brandon Watts, was driving a car involved in the incident. That car is registered to the Verners and is what led police to their home. Four armed officers soon arrived. It remains unclear whether the officers were dressed in plain clothes or in their uniforms…

No one has been charged. Watts reportedly told officers he used a firecracker in the incident, not a gun. Chief Franklin said on Jan. 1 that he believes Watts was unarmed and the reporting person could have seen and heard a firecracker…

[The cops] were dressed head-to-toe in black attire and did not identify themselves as police, [the mother said] "They simply said 'Get on the ground.'"

Verner said she thought her home was being invaded by robbers. The men asked her who else was in the home. Soon, she and Watts were handcuffed on the floor of the garage.

Melissa Verner was in her bedroom over the garage and came downstairs when she heard noises coming from below. As she entered the garage, officers demanded that she get down on the ground. Police say a physical struggle with her ended with Officer Berry and Sgt. Pickert on the ground trying to apprehend her. That's when the shot was reportedly fired…

[A family attorney] said the Verner family did not know police officers were approaching them in their garage and could not see patrol cars outside. Andrea Verner didn't know what was going on and suddenly was confronted by men dressed in black, bearing flashlights and machine guns, he said.

"Melissa was lucky not to lose her leg from injuries. I am grateful we were not killed by police officers, by an unwarranted police intrusion at gunpoint," she wrote.
The chief of police did not respond to the paper's request for comment. And nothing else happened?