Meet New Congressman Beto O'Rourke, a Democrat With Some Libertarian Ideas About Drug Policy and Immigration
"You can't spend enough money to build enough walls to stop supply and demand," O'Rourke said.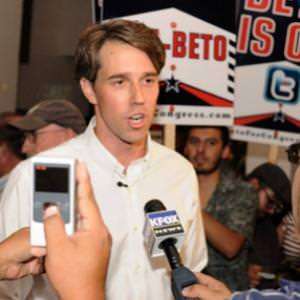 El Paso, Texas, is one of the safest cities in the United States. Ciudad Juarez in Chihuahua, Mexico, is one of the most dangerous cities on the planet. The two cities "are so close," Andrew Rice recently wrote, "that you can sit on a park bench in El Paso and watch laundry wave behind a whitewashed house on a Juárez hillside." But the cities aren't just physically close. They share an economy and a culture, and what affects one–say, the drug war and immigration policy–strongly affects the other.
"We in El Paso very much believe that we have sacrificied mobility, trade, our economy, and community at the altar of security," says newly elected Rep. Robert "Beto" O'Rourke, a Democrat from Texas' 16th District. "It reminds me of that great Benjamin Franklin quote, 'Those who would give up essential liberty to purchase a little temporary safety deserve neither.'"
O'Rourke isn't your average congresscritter. When the father of three and former indie rocker primaried Democratic Rep. Silvestre Reyes in 2012, largely, he says, because the latter had spent seven terms in Congress ignoring the issues most pressing to El Paso, O'Rourke found himself the subject of an anti-drug smear campaign. In a TV ad, Reyes tacitly suggested O'Rourke wanted to make drugs available to children, and a Reyes surrogate accussed O'Rourke of wanting to legalize crack-cocaine. While O'Rourke has since said that his win over Reyes "wasn't about drugs," his opponent was nevertheless right about one thing: O'Rourke isn't a drug warrior.
In 2011, he co-authored with El Paso City Rep. Susie Byrd Dealing Death and Drugs: The Big Business of Dope in the U.S. and Mexico, a book that catalogs the extent to which America's drug control and interdiction policies have hurt Mexico and jeopardized America's relationship with immigrant workers. In 2009, back when he was an El Paso city councilman, O'Rourke introduced a resolution calling the War on Drugs a failure.
So while it's true that O'Rourke's victory over Reyes was about more than drugs, it's also true that the drug war is about more than drugs. It's also about security, immigration, and the economic law of supply and demand. In December 2012, I interviewed O'Rourke about America's immigration and drug policies, and the effect those policies have had on El Paso and its neighbor, Ciudad Juarez. I also asked O'Rourke how he plans to sell reform to his new colleagues in Washington, D.C.
Reason: You're a new member with big ideas, but what do you realistically expect to accomplish when you get to D.C.? What part are you going to play in the Democratic minority?
Beto O'Rourke: I don't know what my role will be. I'm just learning how this job works and what my function will be in a minority party. I certainly at a minimum want to offer the perspective of El Paso and my attention to Juarez. And what the last five years has meant to Juarez, and to us, and the fact that Juarez was, though is no longer, the deadliest city in the world. And that is directly connected to the drug consumption habits of the United States and the drug control and interdiction policies of the United States. Those two factors were directly related to the brutality and the murders and the activities we saw in Juarez over the last five years.
Reason: Do you think you are unique, in Congress at least, for your concern for Juarez? We hear a lot about the need for tougher enforcement, a bigger fence, a moat with alligators; but not a lot of sympathy for Mexican nationals.
O'Rourke: In terms of immigration, we're seeing a lot of Democrats and Republicans use the really elastic term, "Comprehensive Immigration Reform," and they don't totally understand what that means. For us in El Paso, it's part of a larger discussion about the nature of the border. We in El Paso very much believe that we have sacrificied mobility, trade, our economy, and community at the altar of security. It reminds me of that great Benjamin Franklin quote, "Those who would sacrifice liberty for security end up with neither."
There are three-to-four hour wait times to get into El Paso from Juarez, which is hurting our retail economy in El Paso. You have trucks sometimes waiting nine hours to get into the country when they pass into El Paso. There's $80 billion in trade coming through the district I represent that's at stake. Due to those wait times, you start to find that clients are willing to air-freight their cargo out of Juarez. When clients start to air-freight, they can air-freight to and from anywhere and be competitive, so there's less and less reason to do business in El Paso.
My challenge is this: Nobody in Congress is going to lift a finger to help us just for those reasons. What will make a compelling case is if I can link the economic activity in El Paso to the economic activity in the home districts of the guy in Michigan and Ohio, and to the manufacturing output for their districts. I have to convince other Democrats and Republicans that it's wise to invest in the U.S.-Mexico border, not just for security, but also for mobility and trade, and that's why we should open up the border.
For the last 10 years running, we've been either the first, second, or third safest city in the United States. And here we are next to the deadliest city in the world. So we have just the best story to tell about how immigrants add vitality to your community, your economy, and your culture, and how they've contributed to make El Paso the safest city in the United States. That's the story I plan on telling.
Reason: The disparity in safety between El Paso and Juarez–to me that says you can't have border and immigration reform without drug control policy reform. Yet those two things are almost never talked about as a package deal. So how do you make the case that it should be easier to cross the border to people who are concerned about drug violence just south of the border?
O'Rourke: I think you have to start breaking down the reasons Juarez devolved into the terror that it has over the last five years. It's not a force of nature, it's not–and I've heard people say this–'just a Mexican thing.' It doesn't have anything to do with Mexicans being any less adept at running government or civil society. It's the same exact forces that were brought to bear in Chicago in the late 1920s. You cannot have billions of dollars of elicit trade and cash pouring through a community and not have outside violence occur.
You have to look at the source. It's consumption and demand for drugs in the U.S., and the prohibition policies we have that create such a premium for these drugs, and the interdiction policies that we have, such as Plan Merida. We have to stop pointing the finger at Juarez. We're part of the problem. If some of the culpability is on this side of the border, we have to admit it, own it, and change it. I have tried to be part of that conversation at the local level, and I would definitely like to be part of that conversation at the national level, because few communities have more at stake than El Paso when it comes to what's happened in Juarez in the last five years.
That's the moral dimension of it: 10,000 people have been brutally murdered in our community in the span of five years. Imagine what that does the psyches of victims who survive those crimes. And on a self-interested side of it, imagine what that does to the economy of El Paso when that's part of your brand around the world; when you've invested in border protection and walls, and not in bringing people and goods into your city. That sets El Paso up for failure, and my case to the rest of the U.S. Congress will be that it's setting up this country for failure. Right now, Mexico is our third largest trade partner. Within a couple of decades, it will be our country's primary trade partner. But our national policies don't reflect that.
All these questions about immigration and border security. There's a selfish economic interest that the U.S. should be looking at. It's in our interests to be facilitating trade and the flow of people, and to recognize the value of immigrant labor, whether it's low-skilled, low-wage or the very high skilled, high-wage labor.
Reason: There's an argument to be made that over-regulation is an enemy of immigrant labor. In terms of immigration policies that are on the table right now, what are you for, and what are you against?
O'Rourke: I'm for the DREAM Act. It makes so much sense. Following the implementation of the DREAM Act, we'll have a case study we can point to where we can say that we provided a path to citizenship or legal involvement in the community for these young immigrants, and the sky didn't fall. In fact, we'll be able to say that it gave us greater economic activity. I saw one study that shows that the economic benefit for the state of Texas alone over the next 10 years would be $66 billion positive if the DREAM Act is passed and the dreamers are able to work within the legal economy. We'll be able to take these stories and say, 'This is what happens when you approach this issue rationally, and when these people are allowed to come into the daylight and contribute to our community and our economy.'
The DREAM Act is my larger opening to do this on a holistic level. To allow the market to determine what's needed, which is something that's been happening for a long time already. Just like with drugs, we have a giant demand for labor in the U.S. just as we have a giant demand for marijuana. And despite the best-intentioned laws, and the billions of dollars we've spent trying to combat demand here in the U.S. You can't spend enough money to build enough walls to stop supply and demand. So let's allow our laws to reflect that, and to the best of our ability make sure that supply and demand are regulated to the advantage of our country and our taxpayers, and that everybody working in this country is afforded the same protections that you and I take for granted. Americans don't want to do the millions of jobs that non-native born residents are willing to do. Let's regularize the people willing to do those jobs, and protect them under the law. George W. Bush got that. At one time, John McCain got that.
Reason: Ronald Reagan got that.
O'Rourke: Yes. And why haven't we had any progress on immigration since 1986? It's kind of like the drug war. You have people speaking in emotion rather than facts or logic. If you just look at the numbers on either of these issues, it's clear that what we're doing just doesn't work, and it's not providing value to the taxpayer. It's time for a rational, non-emotional discussion on the best path forward. I think the answers will be self-evident.