Newspaper Publishes Map of Gun Owners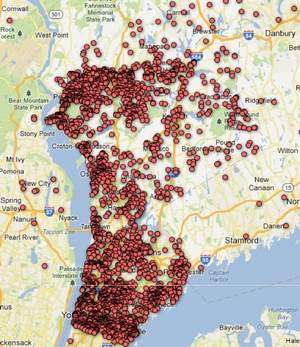 Do you own a registered gun? Well, they know where you live. By "they" I mean the government (which you knew), and the Freedom of Information Act-using, technology wielding media, which can with some effort build maps like the one you see on the right, showing the Westchester County addresses of people who have registered their handguns.
Explains The Journal News Record (Gannett-owned) of Lower Hudson County:
In the wake of the mass shooting at Sandy Hook Elementary School in Newtown, Conn., and amid renewed nationwide calls for stronger gun control, some Lower Hudson Valley residents would like lawmakers to expand the amount of information the public can find out about gun owners. About 44,000 people in Westchester, Rockland and Putnam — one out of every 23 adults — are licensed to own a handgun.

Anyone can find out the names and addresses of handgun owners in any county with a simple Freedom of Information Law request, and the state's top public records expert told The Journal News last week that he thinks the law does not bar the release of other details. But officials in county clerk's offices in Westchester, Rockland and Putnam maintain the public does not have a right to see such things as the specific permits an individual has been issued, the types of handguns a person possesses or the number of guns he or she owns — whether one or a dozen.
The map, which "does not include owners of long guns — rifles or shotguns — which can be purchased without a permit," was brought to my attention by Twitterer "Russ" (@burnt_wick), who comments that this "is why you should acquire all of your firearms illegally."