Will ObamaCare's Health Exchanges Be Ready on Schedule?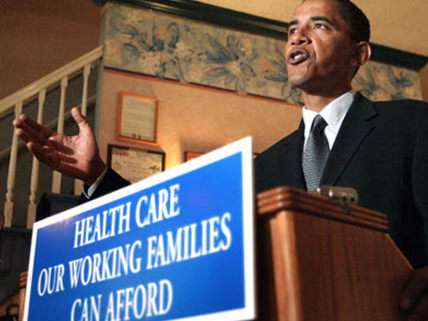 When ObamaCare became law, virtually everyone believed that every state would create its own health insurance exchange. That didn't quite work out. As of last week, only 17 states plus the District of Columbia had officially declared that they would take full responsibility for creating their own exchanges. At least 16 states have entirely opted out, leaving the federal government to build and run the exchange instead; others have chosen a partnership model that still leaves much of the responsibility to the federal government. As a result, implementation will proceed along two fronts: the state level in some case and the federal level in others. And there are real questions about whether the exchanges will be built on time in either case.
Some of the states that have been most aggressive about creating the exchanges are nonetheless worried about delays. In the District of Columbia, for example, authorities have admitted that the timetable is just too aggressive. Deadlines originally set for January 1 of 2013 aren't going to be fully met. "No state is going to be able to be fully certified on Jan. 1," Bonnie Norton, D.C's acting director of health reform, told The Washington Post. "When they passed the ACA, they were highly optimistic about the timeline for states to implement exchanges."
Even bigger questions remain about whether the federal government will be able to build the exchanges it is now expected to have up and running before the end of 2013. In the OC Register, Ben Domenech predicts that the federal exchanges will ultimately be delayed:
Obama administration officials are desperate to meet the deadlines because they know implementation will be very difficult, if not impossible. They've kicked the can down the road again and again, with vague rules and regulations that raise more questions than they answer. In states that won't comply, health care bureaucrats will have to handle the creation of two federal exchanges – one for individuals, one for small businesses – an extremely difficult process.

All along the Obama administration has clearly been fairly nervous about this aspect of the process – it wants to be able to spread the blame around to state governments if the whole system comes crashing down.

Here's where the motivation for delay comes in. The implementation phase of Obama's exchanges will likely make for some interesting reactions in 2014, an election year and the first time when most people will have direct experience with Obama's health care law. The public's reaction could be significant for the Democrats' political prospects. If the system isn't ready, some Hill Democrats are murmuring, better to shift it to 2015 and take it off the table for a year.
Speaking to Investors Business Daily's David Hogberg last week, Cato Institute Health Policy Director Michael Cannon also predicted delay:
"HHS expected to be running zero exchanges," said Michael Cannon, director of health policy studies at the libertarian Cato Institute. "They have been throwing money at states to bribe them to start exchanges. HHS maintains they'll have these things up and running by October 2013. I don't know anyone who is confident about that and I'm ready to predict that they will not."
Delayed implementation would not necessarily mean that the law ultimately fails to get up and running. But it would certainly complicate messaging on a law that's always struggled in popular opinion, and further undermine public confidence in the administration's ability to deliver on its health reform promises.