Justin Amash to Boehner: You Are Not Doing a Good Job, and Are Not Welcome in My State
The fight over the four congressmen (Reps. Justin Amash (R-Mich.) and Tim Huelskamp (R-Kansas) from the House Budget Committee, Reps. David Schweikert (R-Ariz.) and Walter Jones (R-N.C.) from Financial Services Committee) booted from committee positions for, they say, being uncooperative with the GOP on spending (wanting to cut it too much) is getting personal.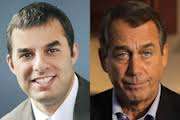 Amash tells House Speaker John Boehner that he is not welcome in Amash's Michigan:
"If Speaker Boehner wants to come back to my district, he's not going to be met with very much welcome," Amash told reporters this afternoon.

Amash, who was elected in 2010, was recently booted off of the budget committee by House Republicans. Amash blames Boehner for orchestrating his removal.

Amash added that he has little faith in Boehner's negotiating tactics.

"I spent a lot of time saying, 'Speaker Boehner is doing the best job we can do.' I did that for a year, a year in a half. But we're not doing the best job we can do," Amash said. "We need people who are going to be bold, we need leaders."

"This is about who's fighting for the American people," Amash said. "I want to speak out now because I want to encourage my colleagues to be more outspoken."
The grassroots may be rising in their defense; conservative site RedState is rallying the troops to call/harass their congressmen to find out if they supported the demotions and to demand reinstatement for the Fantastic Four (if this name for them catches on, royalties please.)
These signs of not laying down on the part of these congressmen is heartening, but it does limn the fact that the Party as a whole is not only unreliable on fiscal discipline, it is prepared to punish those who are. We'll see how many phone calls change that.
I blogged the other week about Amash's first wave of anger over this.