Texan State-Run Cancer Research Institute Accused of Putting Politics Ahead of Cures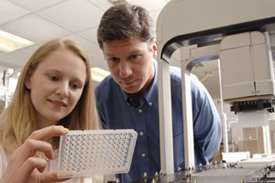 The largest state-run cancer research center, The Cancer Prevention Research Institute of Texas (CPRIT), is fighting for its reputation following a string of bad press relating to its grant review procedures. The institute, which is in charge of $3 billion dollars worth of taxpayer money, has been hit by numerous scandals and accusations that it is putting politics ahead of science.
A Houston Chronicle investigation into CPRIT has revealed several instances where the proper grant proposal review procedure was not followed and certain commercial projects where favored without scientific review.
Back in June, the Chronicle revealed the dubious review process that led to a $20 million grant being awarded to the M.D Institute for Applied Cancer Science in conjunction with Rice University. Dr. Lynda Chin, the scientific director of the M.D Anderson Institute, submitted a plan in early March for what would be CPRIT's largest awarding grant to date. Jerry Cobbs, CRIT's senior staff member overseeing commercialization grants, questioned the viability of Chin's project suggesting it was not yet "ready" and should be delayed. ABC Local reported that the proposal was just 8 pages long. Dr. Chin, however, was awarded the grant by the end of the month supposedly thanks to the work of M.D Anderson associate and member of the CPRIT oversight committee Charles Tate.
Tate pushed the committee to enact rules that would enable so-called "incubators," organizations within CPRIT that nurture small companies through the drug development process, to dole out grant money without the project-by-project review usually undertaken by the scientific and commercialization committees within CPRIT. Further to this Tate encouraged the M.D Institute to join with a Rice University commercial grant proposal in order for it to circumvent scientific review by the CPRIT panel, then headed by Nobel Laureate Dr. Alfred Gilman.
The Chronicle released the details of more grant-based mishaps last week as they revealed that the agency approved an $11 million grant in 2010 with no scientific or commercial review whatsoever. The grant was awarded to Peloton Therapeutics after commercialization officer at the time, Jerry Cobbs, improperly included the proposal on a list of awards submitted to the oversight committee, despite it not being subject to the necessary review committees. Cobbs has since resigned for undisclosed reasons.
CPRIT was set up in 2007 following overwhelming approval as a ballot measure. Bill Gimson, the institute's director, issued a statement regarding its continuing scandal. "CPRIT must have the trust of our fellow Texans that we are not only doing great work, but that we are also doing everything the right way."