Hillary Clinton Reminds a Hurting Latin America That She Is Opposed to Drug Legalization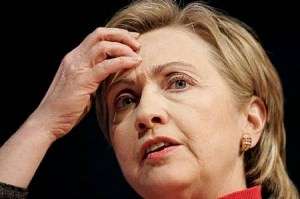 At a forum hosted by Foreign Policy magazine, Secretary of State Hillary Clinton reminded the leaders of Latin America, whose countries have been savaged by drug-war violence, that the Obama administration, and Clinton in particular, are opposed to legalizing drugs as a means of making those countries less reminiscent of failed states:
"I respect those in the region who believe strongly that [U.S. legalization] would end the problem," Clinton said Thursday at a Washington D.C. forum hosted by Foreign Policy magazine. "I am not convinced of that, speaking personally."

Some Central American leaders have urged the United States to consider other approaches to domestic drug usage — citing ruthless drug cartels that murder thousands of their citizens. Several Central American countries are considering limited legalization of drugs within their borders.

"I think when you've got ruthless vicious people who have made money one way and it's somehow blocked, they'll figure out another way," she said. "They'll do kidnapping they'll do extortion."

Speaking about the two states that recently legalized marijuana, Clinton repeated the Obama administration position that they haven't formulated a response yet.

"This is an ongoing debate," she said. "We are formulating our own response to the votes of two of our states as you know — what that means for the federal system, the federal laws and law enforcement."

"I think you can, with a comprehensive strategy succeed in certainly pushing back the tide of violence and corruption that drug trafficking brings," she said.
Clinton's statement about ballot initiatives in Colorado and Washington represents the largest number of words a named official of this administration has uttered regarding the single biggest change in drug policy this century. Good on Clinton for acknowledging that it happened.
It's also fascinating to me how Clinton has shifted on this topic. Here's what she said during a Mexico City trip in 2009:
"Our insatiable demand for illegal drugs fuels the drug trade. Our inability to prevent weapons from being illegally smuggled across the border to arm these criminals causes the deaths of police officers, soldiers and civilians."
Maerker: In Mexico, there are those who propose not keeping going with this battle and legalize drug trafficking and consumption. What is your opinion?

Clinton: I don't think that will work. I mean, I hear the same debate. I hear it in my country. It is not likely to work. There is just too much money in it, and I don't think that—you can legalize small amounts for possession, but those who are making so much money selling, they have to be stopped.
And November 2012: "I am not convinced of that, speaking personally."
Since when do personal convictions matter in deciding policies that directly affect billions of people?