Hungarian Parliamentarian Wants Government to Draw up List of Dangerous Jews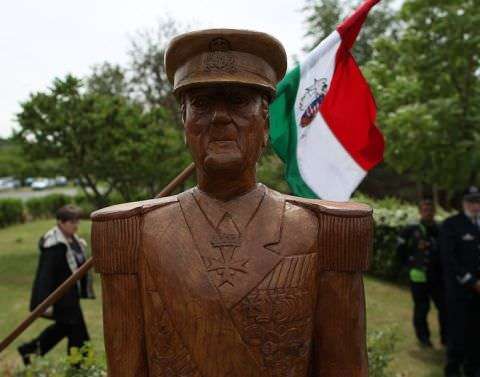 Hungary, long considered one of post-communist Central Europe's biggest success stories, has been backsliding fast since the rancidly populist Fidesz–Hungarian Civic Union party headed by Viktor Orbán won a two-thirds parliamentary majority in 2010. Among the many illiberal developments has been an alarming resurgence in government-sanctioned anti-Semitism.
Now Reuters is reporting on an appalling new development:
A Hungarian far-right politician urged the government to draw up lists of Jews who pose a "national security risk", stirring outrage among Jewish leaders who saw echoes of fascist policies that led to the Holocaust.

Marton Gyongyosi, a leader of Hungary's third-strongest political party Jobbik, said the list was necessary because of heightened tensions following the brief conflict in Gaza and should include members of parliament. […]

Gyongyosi, who leads Jobbik's foreign policy cabinet, told Parliament: "I know how many people with Hungarian ancestry live in Israel, and how many Israeli Jews live in Hungary," according to a video posted on Jobbik's website late on Monday.

"I think such a conflict makes it timely to tally up people of Jewish ancestry who live here, especially in the Hungarian Parliament and the Hungarian government, who, indeed, pose a national security risk to Hungary."
Jobbik holds 44 of 386 seats in the Hungarian Parliament, according to the Reuters report. Fidesz and the government condemned Gyongyosi's statement.
A half-million Hungarian Jews died during the Holocaust, often with the enthusiastic participation of their non-Jewish countrymen.
Link via the Twitter feed of Nick Denton.