Will Obama Get to Pack the Supreme Court?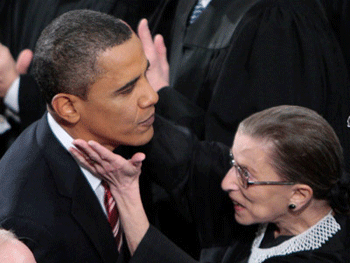 Justice Ruth Bader Ginsburg has often said she intends to remain on the Supreme Court for at least as long as progressive judicial hero Louis Brandeis, who retired at the age of 82. Given that Ginsburg is now 79, and will turn 82 in 2015, it's safe to say President Barack Obama will get to make at least one appointment to the Supreme Court in his second term. Writing in today's Wall Street Journal, Jess Bravin looks at a few of Ginsburg's possible successors:
One name increasingly mentioned in liberal circles is Judge Paul Watford, 45 years old, who was confirmed earlier this year to the Ninth U.S. Circuit Court of Appeals in San Francisco. Judge Watford is a former federal prosecutor and corporate lawyer who clerked both for Judge Alex Kozinski of the Ninth Circuit, a Reagan appointee, and Justice Ruth Bader Ginsburg, who at 79 is the eldest member of the Supreme Court….
If appointed, Mr. Watford would become the third African-American, after the late Thurgood Marshall and Justice Clarence Thomas, to sit on the Supreme Court.
Many believe, however, that if Justice Ginsburg retires, Mr. Obama is likely to seek a female successor. In that case, one name being mentioned is Ninth Circuit Judge Mary Murguia, whom the president elevated from the federal district court in Arizona. Judge Murguia, a daughter of Mexican immigrants, attended the University of Kansas and served as a federal prosecutor in Arizona under then-U.S. Attorney Janet Napolitano, now secretary of homeland security.
Obama replacing Ginsburg won't necessarily shift the current left-right balance on the Court, though it will certainly strengthen the liberal bloc. But that's not the only possible future scenario. For instance, Justice Antonin Scalia and Justice Anthony Kennedy are each currently 76 years old. These Republican-appointees would perhaps prefer to wait until a president of their own party is in office before retiring, but the unmerciful forces of age and health could command a different result. Needless to say, Obama replacing either of these two justices would have a profound impact on the future of both the Supreme Court and American politics.