Closing Arguments Reveal That Both Presidential Candidates Are Full of It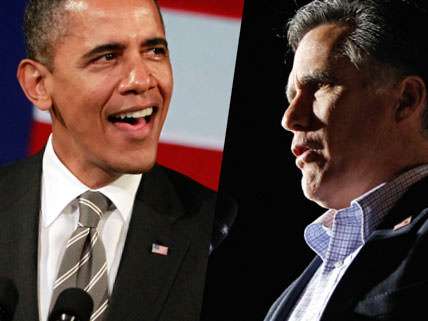 As voting day draws near, President Obama and his Republican rival Mitt Romney are both rolling out their closing arguments, which turn out to be more or less the same arguments they've both been making since the presidential campaign began. Both candidates aim to highlight their core messages in their final appeal to potential voters, but end up highlighting how empty their campaigns have been.
Romney remains unabashedly willing to stake out contradictory, vague, or simply ludicrous positions. According to CNN, for example, he wants to remind potential voters about "his plan to put the country back on track to a balanced budget," and also that he wants to reverse President Obama's cuts to military spending and cuts to Medicare. He wants to talk up the virtues of free trade while taking a tougher line on China that could spark a trade war. He wants to stress the need for "fundamental tax reform" but doesn't want to provide the necessary details to show it might work. And his campaign says he'll reiterate his promise to achieve North American energy independence by 2020, an old gimmick of a promise that won't happen.
The broader theme of Romney's final push? Painting a picture of a Romney presidency on day one. Which is fittingly ironic for a candidate who has run a campaign determined to evade most questions about how he would govern on any day he's in office, from first to last. What Romney's closing argument tells us is what the rest of his campaign told us: that he's a political shape-shifter who wants to be president, and will say whatever he thinks is most likely to get him the gig.
Speaking of gigs, President Obama is dropping some old hits into his final-week set list. Not only is the president playing hope and change again, telling his less-fired-up supporters that "I know what change looks like because I fought for it," he's also making sure that everyone knows his GOP rival won't be able to play a convincing cover version. Romney's "saying he's the candidate of change," Obama said at a rally this morning. "Well let me tell you, Wisconsin, we know what change looks like, and what the governor's offering sure ain't change."
"Giving power back to the biggest banks isn't change," Obama said, according to TPM. "Leaving millions without health insurance isn't change." But apparently keeping a sitting president in power is. "The protectors of the status quo are a powerful force in Washington," Obama warned. "And over the last four years, every time we've tried to make a change, they've fought back with everything they've got." Which is exactly what Obama, fighting to keep his job after four years in which his approval ratings sank, is doing now.
So as the election closes, here's where we're at: The incumbent president is positioning himself as a challenger to the status quo and an agent of change that his opponent is not, while the policy-details-averse alleged budget cutter is reminding people of the spending he wants to restore and inviting people to imagine the particulars of the way he would govern. It's a choice between bad policies versus no policies, between two candidates with little to offer but reasons why the other guy stinks. Neither has a real vision for the future, except to either protect or do over the past. So while both candidates are selling change to a dissatisfied public, their closing arguments serve as a reminder that whoever wins, the dismal reality of politics-as-usual is bound to stay the same.