Greek Finance Minister Says Bailout Extension Granted, Then Backtracks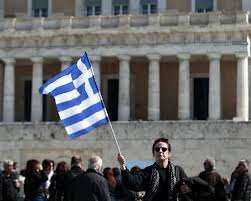 Earlier today Greek Finance Minister Yiannis Stournaras said that a bailout extension had been negotiated with international lenders. This was news to European Central Bank President Mario Draghi, who claimed to be unaware that an extension had been agreed:
Speaking to reporters in Berlin, Mr Draghi said: "The [latest Greek] review is not yet finished.

"I understand progress has been made, but some parts need to be defined, and I don't know anything more than that."
Stournaras had told CNN that the negotiations were "to a large extent finalized."
However, Stournaras has now had to go back on his earlier comments after German Finance Minister Wolfgang Schäuble said that a deal would not be possible without a final report from the troika (European Commission, International Monetary Fund, and the European Central Bank).
Greek officials have been in discussions with the troika for weeks in an effort to finalize a spending and privatization program for the next bailout installment. Whatever gets approved will have to go before the Greek Parliament for approval.
The troika has been insisting on unpopular reforms. An unnamed Greek official spoke to The Guardian about the proposed reforms, the effect they could have on the U.S. election, and how politically difficult reforms would be to implement:
"Even if the troika give us a negative report, what are they going to do? Are they really going to not give us the instalment [to keep Greece's economy afloat] two weeks before the US elections, with everything that entails – default, bankruptcy, global market turmoil?" he asked.

"These labour reforms will turn our country into Bangladesh. They have no fiscal benefit and will actually derail the adjustment programme. The political system will collapse if we impose them.

"The troika is demanding that we commit suicide, which is why we believe this is a matter that should be solved on a political level by the prime minister and not with the troika."
Such sentiments are what are standing in the way of the reforms that are necessary to address the situation in Greece. Unfortunately, it looks like some Greek politicians are struggling to get their stories straight, let alone do what is necessary.