New York Cops Beat Guest of Jewish Learning Center, Then Charge Him With Assault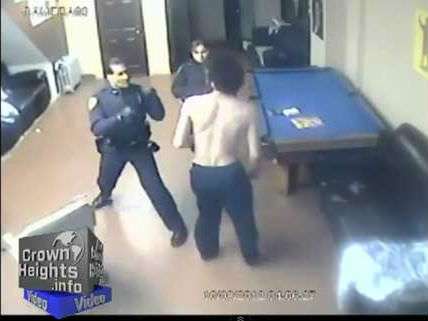 Last week, responding to an anonymous tip about a homeless man sleeping at a Jewish learning center in Brooklyn, police beat Ehud Halevy because he refused to leave, saying he had permission to be there. That turned out to be true. In any case, it is clear from the security camera footage, which was posted by Crown Heights Info on Sunday, that the police were the aggressors. The Raw Story's Stephen Webster describes the one-sided fight this way:
When the officers attempted to force his exit from the building, ignoring his claims that he was allowed to be there, Halevy resisted. That's when one of the officers flew into a rage, putting his fists up like a boxer and launching a flurry of punches.

As the video rolled, Halevy sustained repeated blows from the male officer while a female officer stood by hitting him with a club, then pepper-spraying him. Finally, an upwards of 10 officers ran into the building to ensure the man could not resist any further, and he was taken away.
At a press conference on Monday, Rabbi Moshe Feigli, director of the Alternative Learning Institute for Young Adults (ALIYA), where Halevy had been sleeping on a couch for a month, said:
This person had permission to be there. Regardless, the behavior of the police department—of two individuals —is beyond comprehension. A very sad moment for me personally. I'm a great supporter of the New York City Police Department, and I continue to be a great supporter, but this behavior is unconscionable, and if not for the video camera to record what happened, we might actually believe that Ehud attacked the police officers, and he never did. He's charged with felonies, he's charged with all kinds of crimes, and now I wonder how many other times New Yorkers are charged with serious crimes and there's no video camera to tell the story.
Crown Heights Info reports that Halevy was charged with assaulting a police officer, a felony that carries a penalty of up to five years in prison, plus trespassing, resisting arrest, and harassment. Watch the video and judge for yourself who is harassing and assaulting whom. Feigli, Webster reports, "demanded that the New York Police Department identify the offending officers and fire them immediately."
[Thanks to Richard Cowan for the tip.]