David Cameron Wants A Counseling Session With the EU, Not a Divorce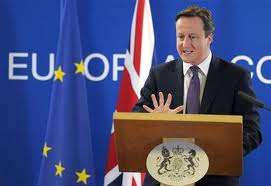 In today's Prime Minister's Questions David Cameron was asked how he would vote in an "in or out" referendum on the UK's membership of the European Union. The question comes after Education Secretary Michael Gove said that he thought the UK was "ready to quit" the Nobel laureate last week. Defence Secretary Philip Hammond has said that Gove's sentiments reflect what many Tories feel about the UK's membership of the EU.
David Cameron replied that he would not support a referendum on membership, but rather supported a referendum on a renegotiated settlement:
I am not happy with us leaving the European Union. I'm not happy with the status quo either. I think what the vast majority of this country want is a new settlement with Europe, and then that settlement being put to fresh consent.
Data does not support the Prime Minister's view that the "vast majority" of Britons want a renegotiated membership. This month's YouGov poll shows that 48 percent of British voters would vote to leave the EU altogether, and only 31 percent would vote to stay in. The poll seems to back up Hammond's point that most Tories feel that the UK is ready to quit, with 65 percent of voters who intend to vote for the Conservatives saying that they would vote to leave the EU.
Cameron is in a difficult position as he is in coalition with the pro-EU Liberal Democrats, only 27 percent of whom would vote to leave the EU. The partnership forged in May 2010 has been far from easy, and upsetting coalition partners over one of their pet topics is something Cameron probably wants to avoid.
Whatever the split might be amongst British voters on membership of the EU, there is majority support for a vote to decide the matter. A referendum on EU membership is supported by 60 percent of those polled. When broken down by party a referendum on EU membership has support from 55 percent of likely Labour voters and 75 percent of likely Conservative voters. Even the Liberal Democrats, who do not support leaving the EU, have 43 percent of likely voters saying they support a referendum. It seems that the general consensus is that having EU membership put to the British voters is long overdue.
If Cameron wants to win back support that he has been losing since May 2010 he will have to address the UK's relationship with the EU. The Conservatives have been losing supporters to the explicitly eurosceptic UKIP (United Kingdom Independence Party), who although having no seats in Westminster have 12 seats in the European parliament.
The euro-crisis looks likely to only prompt a further increase in British euroscepticism. The majority of Britons who intend to support the two major parties in the future think there should be a referendum on EU membership, and polling seems to indicate that an "out" vote would prevail, an outcome that would be supported by most Conservatives. It's a shame that calling such a referendum would almost certainly break the Tory-Liberal Democrat coalition and potentially hand power back to Labour. In the meantime Cameron will have to see more and more supporters switching to UKIP while Britain enjoys all of the benefits of membership with the EU.