Cop Who Beat Up College Student Said He Couldn't Identify Himself on Camera, According to Testimony
Facing assault and official misconduct charges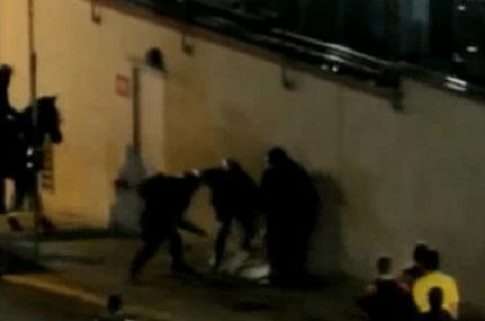 Two years ago, several cops were caught on camera beating up a University of Maryland student during a raucous celebration after a basketball victory. A year later, they were indicted on charges of assault and official misconduct. Those cops are currently on trial, and according to an internal affairs investigator, one of the cops involved in the beating, Officer James Harrison, actually said he "couldn't actually identify himself" on the tape. According to the Washington Post:
In an interview at the internal affairs office in Clinton, Harrison "said he was a witness" and could not identify those actually swinging their batons, [internal affairs investigator Lt. Charles] Walls testified.

Walls testified that Harrison called him personally the next day and asked what equipment he would need to turn in, feeling his "suspension was imminent." Even then, Walls testified, Harrison stopped short of admitting his role in the incident.
The cops' defense, naturally, is that they were just doing their jobs:
Defense attorneys have argued that Harrison and Baker were merely doing their jobs, acting as "foot soldiers" trying to control a violent postgame riot in College Park. Walls's testimony Tuesday at their trial in Prince George's County Circuit Court was a key cog in prosecutors' attempts to convince jurors that Harrison knew what he did was wrong and that he made some effort to cover up his conduct.
See, if the cop didn't know there was anything wrong with wailing on a college student amid a crowd of rowdy college students, it would have been okay. The cover up's a crime, too. The other cop on trial, Reginald Baker, maybe might've been remorseful:
Also Tuesday, Sgt. Dexter McKinney, a friend of Baker who was also working the night of the incident, testified that after he was interviewed by internal affairs detectives, Baker called him and "apologized for putting us through that." Of the incident, McKinney said Baker acknowledged fully he was the one on the video and said he was "sorry it happened" and was "just not feeling good about it."

"He wasn't proud of it," McKinney testified.

In their own questioning of McKinney, defense attorneys suggested Baker was apologizing not necessarily for his conduct that night but because his actions had thrust colleagues into an internal affairs investigation.
Those pesky cameras. Reason TV on government's war on cameras (not the ones it points at you, obviously):