Florida Cracks Down on Unlicensed Telemarketers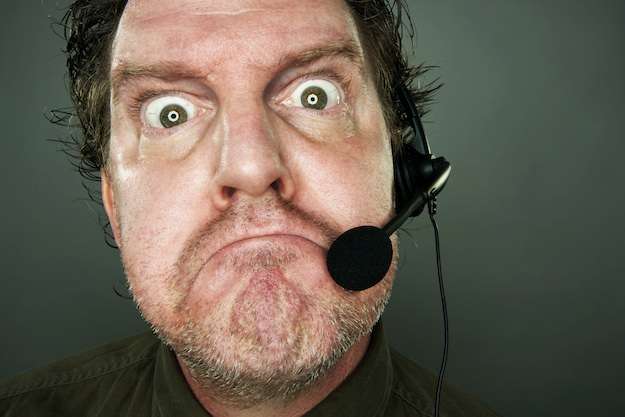 Via the Bradenton Herald, more from the annals of occupational licensing run amok:
A Bradenton business owner was arrested Wednesday and charged with using unlicensed telephone salespersons.

Joseph Nicholas Harris, 44, of Bradenton, was charged with employing two telephone salespeople at his business who were not licensed by the state, a third-degree felony, according to the Manatee County Sheriff's Office.

The inspection targeted Harris' company, Tropic Air Conditioning, 1342 Whitfield Ave. in Manatee County.
In Florida, third degree felonies—such as battery of a police officer, burglary of an unoccupied structure, or cocaine possession—can result in up to five years in jail or a $5,000 fine. Last year, officials cited 12 businesses and 170 telemarketers.
The Florida Telemarketing Act requires businesses that solicit sales over the phone to pay an annual fee of $1,500 and an additional $50 for each telemarketer. If salespeople use a script, it must be submitted to the Department of Agriculture and Consumer Services for approval beforehand. The Department's Division of Consumer Services site lists 4,799 currently licensed salespeople.
The law contains 28 paragraphs of exemptions, for selling newspapers, certain financial services, food (less than $500) or for religious, charitable or political purposes. However, exempted telemarketers must still register with the state and keep the Department's acknowledgement of exemption on hand for inspection.
In May 2011, Republican senators shot down a bill that would have eliminated licensing requirements for telemarketers. H.B. 5005 would also have deregulated:
interior designers,
movers,
yacht & ship brokers,
auctioneers, talent agencies,
athlete agents,
persons practicing hair braiding, hair wrapping, or body wrapping,
professional fundraisers,
water vending operators,
health studios,
ballroom dance studios,
certain outdoor theaters,
motor vehicle repair shops,
and travel agents.
Florida also licenses martial artists (as well trainers, announcers, seconds, and timekeepers), barbers, cosmetologists, farm laborers, home improvement contractors, landscape architects, funeral attendants, massage therapists, makeup artists, and manicurists.
According to a study by the Institute for Justice, a national nonprofit law firm based in Arlington, Virginia, Florida's licensing laws are the 4th most burdensome and the 7th most extensive for low- and moderate-income occupations nationwide.
See Reason coverage of occupational licensing regulations for artists, movers, hair braiders, home improvement contractors, and interior designers.
Disclosure: I am a former Institute for Justice employee and contributed to the study cited.