Angela Merkel Visits Greece, Greeted By Protesters Dressed as Nazis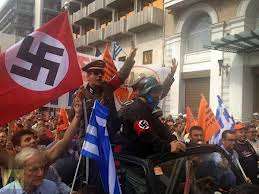 German Chancellor Angela Merkel arrived in Greece today. Her reception was not the most pleasant, with some protesters dressing in Nazi uniforms.
Yesterday European finance ministers approved the European Stability Fund. The bailout fund is made up of contributions from 17 countries, with Germany's contribution to the pot accounting for a little over 27 percent of the fund. Because of the burden being placed on German taxpayers many German politicians have been insistent on strict austerity measures being in place in order for countries like Greece to have access to the fund. The conditional austerity measures being imposed by countries like Germany are what many of the protesters are upset about.
Merkel's visit is largely symbolic, and she lost no time trying to emphasize that she understands the hardship being endured by Greeks. However, she has also said that austerity and reform are necessary for future economic prosperity. How politically feasible the German bailout contributions and the Greek attempt at austerity are remains to be seen.
The Guardian is running a live blog on the visit featuring updates on the ongoing protests and political developments.