Six Ways of Looking at Obama's Dismal Economic Performance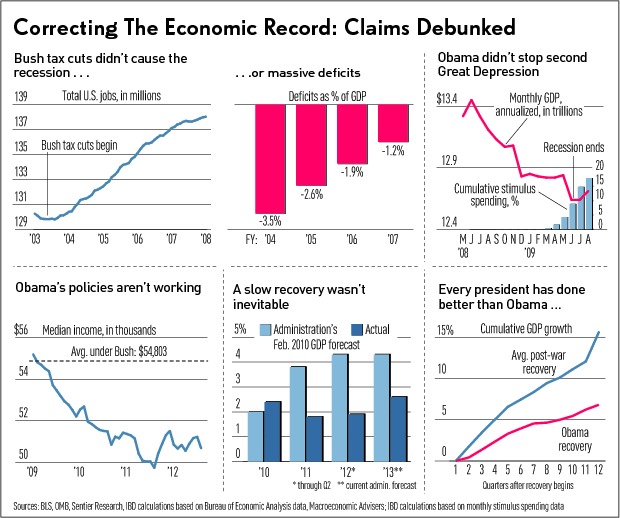 John Merline of Investors Business has put together six charts and an article that lay out an economic case against rehiring Barack Obama's for another term as president.
"President Obama has a simple and straightforward argument" for re-election, he writes
Things were terrible when I arrived, he says, thanks to Bush-era policies of tax cuts and deregulation. We stopped the decline, but the ditch was so deep that it will take time to get out. Still, we are making progress, even if it isn't as fast as everyone would like.
Merline notes that "more people continue to blame Bush than Obama for the current poor state of affairs" but argues persuasively that the current president is mostly abdicating his role in things. Here's an example:
Obama dismisses the slow and painful recovery by saying that he knew the road would be long. "I always believed that this was a long-term project (and) that it was going to take more than a year," he has said. "It was going to take more than two years. It was going to take more than one term."…

[But] Obama's first budget, released in February 2009, predicted "rapid growth" that would "push down the unemployment rate to 5.3% by the end of 2013." In March 2009, Obama boasted that "my long-term projections are highly optimistic."

In August 2009, his economists predicted economic growth rates above 4% this year and next. In April 2010, Vice President Biden predicted job growth of "between 250,000 and 500,000 a month."

It was only after the actual results starting coming in far below expectations that Obama started laying blame on the financial crisis and asking for more time.

And his claim that financial crises inevitably lead to sluggish recoveries is at least open to debate.

While some economists make that claim, others dispute it. A November 2011 paper by economists at Rutgers University and the Cleveland Fed, for example, concluded that "recessions associated with financial crises are generally followed by rapid recoveries."
Read the whole thing here or by clicking on the image above.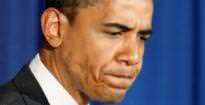 Regardless of the election's outcome, I'm hopeful that we'll start having a better discussion about the actual effects of the past three-and-a-half years of "bold, persistent experimentation" in terms of economic policy (to use Obama's favorite borrowed phrase of Franklin Roosevelt's). I think Merline's charts and analysis is generally right in implying that Obama's interventions didn't just fail in their intentions but that they extended and exacerbated the problems.
But here's something for Republicans to drill into their heads: It's also true the George W. Bush bears a good chunk of responsibility, both for pursuing policies that inflated the housing bubble at the heart of the recession and for going nuts in terms of his own bold, persistent experimentation, especially in the last year of his presidency when he infamously "abandoned free-market principles to save the free-market system."
The 21st century (so far!) has been an unrelieved period of activist government and we're reaping the bitter harvest of that right now and, sadly, for a lot of years to come. Partisans will always use the rotten economy as a way of regaining power, but unless the eventual victors learn what's causing the long, painful slide we've been in and reverse course, we're never going to pull out of it.