Great Moments in Local Journalism: CBS Says Autauga County, AL Drug Raids Are "an adventure you don't want to miss."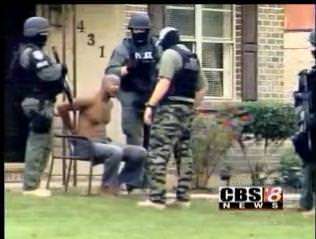 Pretend you're an Alabama reporter; how might you report on a massive, county-wide early morning drug and weapons round-up, a year and half in the making? And say that raid resulted in 36 arrested and involved 150 officers from:
The Bureau of Alcohol, Tobacco, Firearms and Explosives; the Drug Enforcement Administration; U.S. Marshals; Central Alabama Drug Task Force; Alabama Department of Corrections; Autauga, Elmore, Chilton, Montgomery Sheriffs' Offices; police departments from Prattville, Montgomery, Andalusia, Millbrook; and Alabama State Troopers….
Available weapons and tech for these officers was:
a range of weapons and machinery used in the execution of the sting. M4 Carbines, MP5 Sub-machine guns, shotguns, SWAT gear, halogen lamps, and battering rams were available to agents in the field. Helicopters were also available to officers in case a suspect decided to flee the scene.
Well, if you're CBS 8 reporter Jessica Gertler, all of the above information can be ignored, or breezily rushed past in vague description. The only thing her CBS piece offers is a parade of b-roll of masked SWAT officer and various black men being put into cars, some saying sassy things to the camera about "haters! Snitches!" The above block-quoted information is from the al.com blog which, though seemingly a bit slanted, at least managed to include some useful information.
Gertler, on the other hand, invites viewers along for "an adventure you won't want to miss". Her tone is breathless and excited about the police action.
The Thursday morning raids were one of the largest drug raids in state history. They were a success, if only because no one — not law enforcement or any of the suspects, or even any dogs, as far as we know — was injured. They didn't even have no-knock raids, but they rather "knocked and announced [themselves]" according to one undercover agent involved. The amount of drugs found was not yet reported, though most of the folks' warrants were issued because they had sold marijuana and crack cocaine to undercover agents. There were also a few illegal weapons found.
But of that information is not very relevant to Gartler, it's just good fun to watch the authorities, whoever they are, do whatever it that they're doing. Check out the report for yourself below. Also telling is the mayor of Autaugaville referring to the arrested as "trash":
On the other hand a different blond, young CBS 8 reporter actually bothered to talk to neighbors a few hours after the raids and after Gertler's report. Some locals — though not all — were troubled by the raids. Noted Autaugaville resident Totanisha Cobb, "First thing in the morning, I just didn't really know what was going on, especially with the kids and them being kind of scared and figuring out what was going on."
Strange, schizophrenic reporting from CBS, but there's no excuse, even an initial lack of information, for the kind of childish, ra-ra SWAT reporting that Gertler engages in; even if she is not the only one.