Over in the UK a So-Called "Liberal" Proposes a Government-Backed "Business Bank"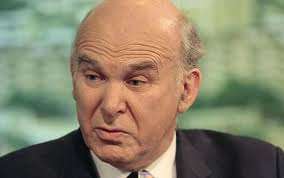 The junior members of the British coalition government, the Liberal Democrats, are in the middle of their conference. The event offers party leadership the chance to try and hold the party together in tenuous partnership with the Tories and to put forward their own "liberal" policy proposals.
One of the Liberal Democrats' favorite leaders is Business Secretary Vince Cable, a man who has not done a good job in hiding his dissatisfaction with the coalition government. In his conference speech he put forward his latest proposal, a £1 billion "Business Bank." The goal of this government-backed bank is to increase the amount of lending to small businesses.
Speaking at the conference Cable said:
We need a new British Business Bank with a clean balance sheet and an ability to expand lending rapidly to the manufacturers, exporters and high-growth companies that power our economy. Today I can announce we will have one. I am working with the chancellor to develop a state-backed institution that will combine up to a billion pounds of new government capital with a larger private sector contribution.
Cable did not hesitate to lay into the supposed inefficiencies of markets. From BBC coverage of the speech:
Mr Cable argued that markets "fail" and governments "can sensibly intervene and support enterprise".

He called for a "will to fight the British curse of short-termism—both in the corporate world and government".
Of course, such government backed plans are not the right way to get businesses the credit they need. As Eamonn Butler explains over at the London-based Adam Smith Institute, such plans pass on costs to taxpayers and distorts the market:
There are three reasons why businesses are not borrowing. First, having found themselves overstretched when the crisis hit, they are now doing the right thing and – unlike Mr Cable's government – reducing their debt. The existence of a state business bank is not going to change that.

Second, times remain very uncertain and many firms cannot see many good projects to invest in, so are not actively seeking finance. A state business bank is not going to change that either – though a growth policy of major cuts in regulation and business taxes might.

Third, some SMEs that would like to borrow cannot get credit because the government has told their banks not to take so many risks – and SMEs are inherently risky enterprises. A business bank would simply pass these risks to the taxpayer. And taxpayers have already paid enough.
It is a shame that the business secretary seems to trust government schemes as a means to prosperity over market forces, though it shouldn't come as a surprise given the history of the coalition government and its feeble "austerity" program.