Chicago Teachers Strike is Over But the Red Ink Will Continue Indefinitely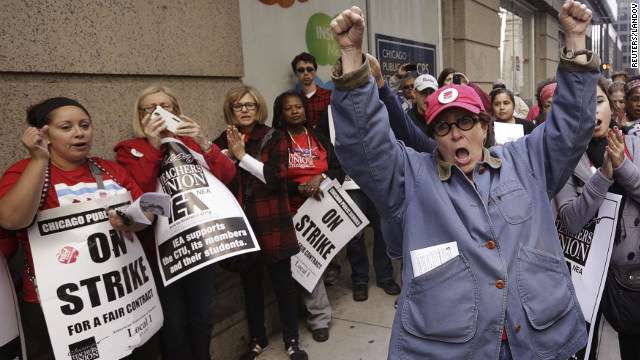 The Chicago Tribune reports that public schools in the Windy City will be open for class tomorrow. Here's the quick breakdown of the terms:
The contract would give teachers base salary raises of 3 percent this year and 2 percent in each of the following two years. They could receive another 3 percent raise if both sides agree to a fourth year in the contract.

Those raises are in addition to other salary bumps for experience and pursuing a graduate degree that would push the overall average pay raise for teachers to 17.6 percent over four years, according to CPS. The district did not offer an average raise estimate for three years.

The contract will not be official until the union's full membership votes to approve it in the coming weeks.
In case you're wondering, Chicago public school teachers average between $71,000 and $76,000 in salary right now and expenditures have ballooned by $1.7 trillion dollars between 2002 and 2011 despite losing thousands of students.
Oh, and the teachers pension system is broke:
Having skipped its pension contributions for many years, Chicago is supposed to start tripling them in another year under state law. But the school district has drained its reserves. And it cannot easily turn to the local taxpayers, because of a cap on property taxes. Borrowing the money would be difficult and expensive as well, because of a credit downgrade this summer. One of the few remaining choices would be to make deep cuts in other services.
If the incompetents running the show want to score a quick $130 million a year, here's one idea:
Many Chicago residents may not realize is that their school district also has been paying $130 million a year to cover most of the pension contributions required of the teachers, a practice known as a "pickup," which became a flash point last year in the collective bargaining battle in Wisconsin. Wisconsin's public workers have agreed to make their own contributions, as a concession.
Hat tip on the pension-woes story: Alan Vanneman.