Department of Children and Families Investigator Offers to "Help" Woman by Demanding Sex in Exchange for Not Having Her Imprisoned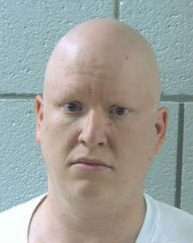 A former investigator with Florida's Department of Children and Families has been arrested for "bribery by a public servant, official misconduct, and falsifying records" after he told a woman under his supervision that he would hide the results of her drug-positive urine test if she would have sex with him. When the 22-year-old woman refused, DCF Investigator Andrew Thomas threatened to report her to her probation officer.
The Volusia County Sheriff's Office has more:
Thomas explained to the victim that he could lose his job for helping her, so she would need to do something to prove he could trust her. The woman told investigators that Thomas started pressuring her to have sex with him in exchange for a clean urine sample. At one point, the victim tried recording the conversation using her cell phone, but Thomas noticed. He ordered her to delete the recording and have sex with him. The victim was finally able to appease Thomas by taking off all of her clothes so he could look at her body, but they did not engage in any sex. Thomas then provided a urine sample and had the victim sign paperwork attesting to having passed the drug screening.

The victim later told her boyfriend what had happened and the boyfriend called Thomas to confront him. Thomas apologized, but explained that he had felt that he was backed into a corner when the victim had failed the test. To help her he needed to have her do something that would prove her trustworthiness. Thomas also stressed to the boyfriend that he was in the process of closing all of the victim's DCF cases.
The woman notified Thomas's superiors at the Department of Children and Families, who told Thomas a complaint had been filed. According to the Volusia County Sheriff's Office, Thomas resigned the next day and moved immediately to Pennsylvania, "to be near family." He was arrested this week in Pennsylvania and awaits extradition back to Florida. Meanwhile, investigators in Volusia County have uncovered more incidents of extortion and harassment, including one case in which Thomas allegedly called and texted one of his female cases "late at night….complimented how she looked, invited her to the beach and to go gambling, and asked her about body massages and sex."
Thomas is the third Florida DCF employee to be charged this year with a sex-related crime. In August, 44-year-old Peter Crane, another Florida DCF investigator, was charged with sexually molesting two five-year-old girls. In June, 46-year-old Jean Lacroix, also a Florida DCF investigator, was charged with having sex with a teen who was part of a prostitution ring composed exclusively of foster children.
These are the people Floridians are supposed to trust with supervising children and families in distress.