Chicago Teachers Strike On for a Second Week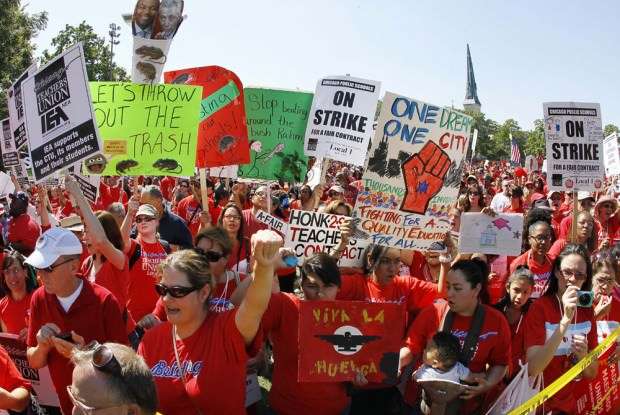 K-12 public school teachers in Chicago are staying on strike for a second week. Some details via Businessweek:
With an average salary of $76,000, Chicago teachers are among the highest-paid in the nation, and the contract outline calls for annual raises. But some teachers are upset it did not restore a 4 percent raise Emanuel rescinded last year.

Emanuel pushed for a contract that includes ratcheting up the percentage of evaluations based on student performance, to 35 percent within four years. The union contends that does not take into account outside factors that affect student performance such as poverty and violence.

The union pushed for a policy to give laid-off teachers first dibs on open jobs anywhere in the district, but the city said that would keep principals from hiring the teachers they think are most qualified.
I'd be pissed if a contracted 4 percent raise got yanked, even if between 2007 and 2012 average pay jacked up by between 19 percent and 46 percent. And given Chicago's – and the state of Illinois's – finances, I'd be pretty happy to be mulling over an offer of 16 percent pay hikes over four years.
Someone's gonna get a haircut in Chicago and the fact is that taxpayers have been wearing buzz cuts for decades now. Public-sector compensation is unsustainable for many if not most municipalities. That doesn't mean change is easy, but it also doesn't mean it can keep being forestalled.
Watch "The Machine: The Truth Behind Teachers Unions," a joint release of Reason TV and the Moving Picture Institute: