Poll: Colorado's Marijuana Legalization Initiative Leads 51-40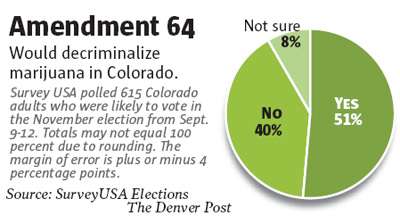 For the first time since polling on the issue began, Colorado's Amendment 64, the ballot initiative to regulate marijuana like alcohol, is polling over 50 percent. The Denver Post reports:
The poll found that the measure, Amendment 64, has the support of 51 percent of likely voters surveyed, compared with 40 percent opposed. Men favor the measure more than women, a common gender spliton the issue. But 49 percent of women polled said they support the measure, compared with 39 percent who said they are opposed.

Across every income bracket and in every age group except those 65 and older, more voters told pollsters they support the measure than oppose it, though some of the leads fall within the 4-percentage-point margin of error. Voters younger than 35 support the measure by a margin of 30 percentage points, 61 percent to 31 percent, according to the poll.

The automated telephone poll was conducted Sept. 9-12 for The Post by New Jersey-based SurveyUSA. About 26 percent of those questioned were cellphone-only users, who were shown a questionnaire on their smartphone, tablet or other electronic device. Of voters included in the sample, 34 percent said they are Republicans, 34 percent said they are Democrats, and 30 percent identified as unaffiliated voters.
While that sounds like good news, the Post notes that California's prop 9 "polled at 52 percent three months before the election, while the measure ultimately failed with 54 percent opposition."